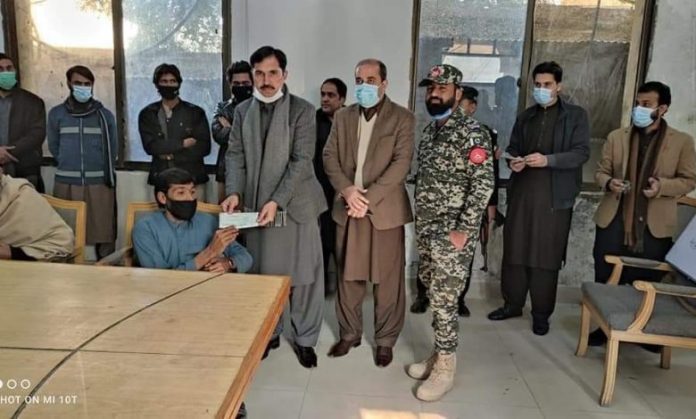 BARA: The district administration of Khyber tribal district on Tuesday distributed compensation cheques among owners of 91 damaged houses in Tirah and Bara.
These houses were damaged during militancy and military operations and a survey of damage assessment was carried out later on to identify the affected people and compensate them accordingly. TNN correspondent reported that a total amount of Rs29.2 million was distributed among 91 affected people of Akakhel, Kamarkhel, Shalobar and Qambarkhel tribes.
The cheque distribution ceremony was attended by Deputy Commissioner Mehmood Aslam Wazir, Additional Deputy Commissioner Noor Wali Khan, Additional Deputy Commissioner Relief Naveed Akbar, officers of the security forces and Citizens Losses Compensation Program (CLCP) coordinator.
According to the CLCP, Rs2.777.04 million have been distributed among affectees of militancy and military operations in merged tribal districts so far. The affectees of Khyber tribal district have so far received 2.77 billion. The affected persons included 5,385 those whose houses were completely damaged, while owners 3,894 partially damaged houses have also received compensation in Khyber.
The owners of completely damaged houses have received Rs40,000 each, while owners of partially damaged houses received Rs160,000 each.
However, there are still many people in merged districts, who have not received compensation yet.
Last week, Khyber Pakhtunkhwa Minister for Relief, Rehabilitation and Settlement Muhammad Iqbal Wazir asked Relief Department to release compensation cheques to the people affected by militancy and military operations in South Waziristan tribal district.
He said the affected people of the areas where survey of damaged houses has been completed must be released immediately.
Addressing a Jirga of tribal elders and notables in South Waziristan, the minister said the people of South Waziristan suffered a lot during militancy and military operation Rah-e-Nijat against the militants, adding that as per the directives of Prime Minister Imran Khan maximum relief would be provided to the people of the merged tribal districts, especially in South Waziristan.
Last month, the owners of damaged houses and properties held a protest demonstration in Bara Bazaar in favour of their demands of initiation of survey of damages and release of compensation cheques.
The protest was led by Awami Inqilabi League president Attaullah Afridi and attended by other office-holders, tribal elders and youth in large number. The major demands of the protesters from the Khyber Pakhtunkhwa government and district administration included release of compensation cheques after survey of 7,000 damaged houses, fresh survey and availability of female staff for distribution of aid under Sada-e-Amn Package.
Hits: 1