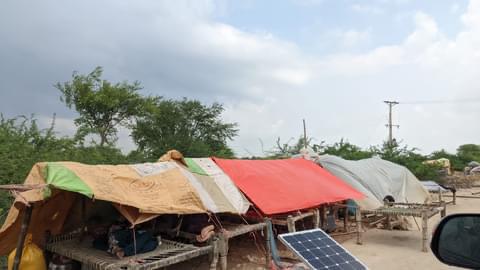 Aziz Sabawun
About 95 percent population of Jafferabad district of Balochistan has been displaced due to the August devastating floods.
More than half of the district still under water even six months after the floods.
Jan Bibi, mother of five said that they had neither food nor shelter in this winter.
"Our problems have increased due to the weather," she said. She said that her children were forced spend their days in this cold. "They have neither warm clothes nor proper beddings," she said.
She asked the authorities to help them in this difficult situation with anything they can.
On the other hand, Provincial Disaster Management Authority (PDMA) report stated that the floods have affected 321,019 households across the province.
The report said that Naseerabad division which is adjacent to Sindh was the most affected area with94.578 damaged houses.
TO a question about proper shelters for the flood affected, PDMA Minister Mir Zia Langoo said that it was their duty to protect the public. However, he said that the regarding the commitments for the flood affectees, federal government had not provided them funds so far.
"Despite its promises, the federal government has not provided us anything so in such a situation how we are going to rehabilitate them," Langoo said.
Official figures show that August floods have affected over 1.5 million people while 336 others were killed.
PDMA report said that the authorities have provided Rs 1 million each in compensation to the family members of those who lost their lives in floods. Besides, authorities have also supported about a million flood affectees.
Hits: 8