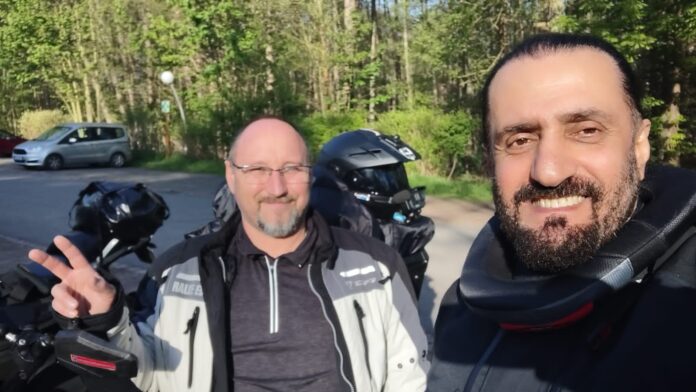 Ashrafuddin Pirzada
A Pakistani-Norwegian citizen, Ziyauddin Shinwari, sets off on a world tour on his bike, which he names "Leo," from the city of Oslo in Norway on Friday. Shinwari, a 59-year-old Youtuber, content creator, storyteller, and passionate tourism enthusiast aims to promote tourism in Pakistan and other countries he plans to visit during his journey.
Originally from Pirokhel, a small village in Landikotal, a Tehsil in the district Khyber of the north-western province of Pakistan, Shinwari has lived in Oslo for the last two decades. Although he has visited most countries in the world by plane and bus, Shinwari says he has always dreamed of exploring the world by road. He hopes to encourage others to follow in his footsteps and embark on cheap and attractive tourism adventures.
To prepare for the journey, Shinwari completed months-long training in bike riding, photography, and videography in Oslo. He plans to visit each historic and tourist spot in Pakistan, where he will shoot vlogs to showcase the country's beauty and promote tourism.
Also Read: Inflation and Weather Conditions Affect Tourism in KP
Shinwari will travel through several countries, including Sweden, Denmark, Germany, the Czech Republic, Slovakia, Hungary, Serbia, Romania, Bulgaria, Turkey, Iran, and Afghanistan, before entering Pakistan. He will spend a few days in each country to explore and capture its essence for the world to see.
Likewise, he is in contact with Pakistani bikers and plans to meet them when he arrives in Pakistan. Along with them, hopefully, he will explore historical and tourist sites in Peshawar, District Khyber, Chitral, Hunza, Kalam, Swat, Murree, Galyat, Lahore, Kashmir, and Multan.
Shinwari invites all his friends and supporters to follow his journey through his social media accounts and be a part of his adventure.
Hits: 19