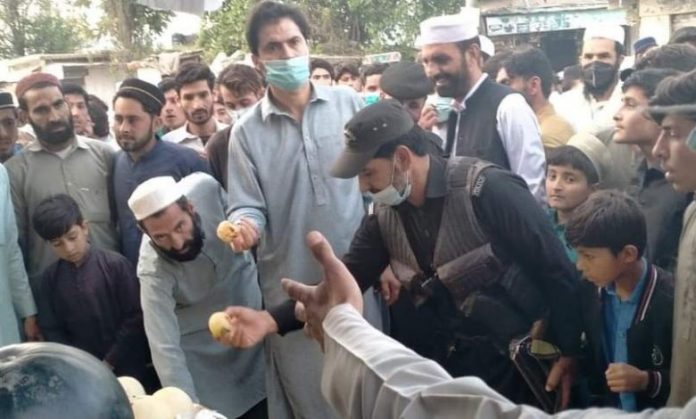 Misbahuddin Utmani
KHAR: A picture has gone viral on social media, particularly on Twitter, in which Assistant Commissioner Khar, Bajaur Fazal Rahim is shown standing in queue with customers, pretending to be one of them, to know about profiteers and take action against them during Ramazan.
Social media subscribers have divergent views on it with some appreciating the assistant commissioner for his efforts, while others just declaring it a publicity stunt.
A subscriber Sami Jan says the person visible in the picture is none other than the assistant commissioner Bajaur who has set an example for others. He said people are proud of such officers who work hard for providing relief to people.
A journalist Umar Farooq says the assistant commissioner wens to shops and asks about rates and then sends some shopkeepers to jail as a matter of his routine.
Rahimullah, a Twitter user, says in his comment that people are being fooled. He says just impersonating as a customer won't resolve the problem of profiteering. He says profiteers must be punished severely.
Another commenter, Baseer says assistant commissioners always target the poor shopkeepers and can't touch the influential people.
https://twitter.com/Umer_Pasanni/status/1383724064355749890
Assistant Commissioner Khar Fazal Rahim says he is happy to receive positive response from people over his efforts. He says the government machinery at the district level works for implementation of state laws and make sure that no one faces highhandedness.
Fazal Rahim says some shopkeepers are in the habit of profiteering as soon as the holy month of Ramazan starts. He says he can get knowledge about people's problem in a better manner while standing in queue with them like a common customer. He says action can be taken against profiteers in a befitting manner when they are caught red-handed.
The assistant commissioner says 80 profiteers have been booked in Khar during Ramazan. He says the booked profiteers include vegetable sellers, butchers and hotel workers. He says those violating the price lists and fleecing the people will face action and no discrimination would be made in this regard. He says the district administration would continue to keep check on prices of essential commodities.
Hits: 16