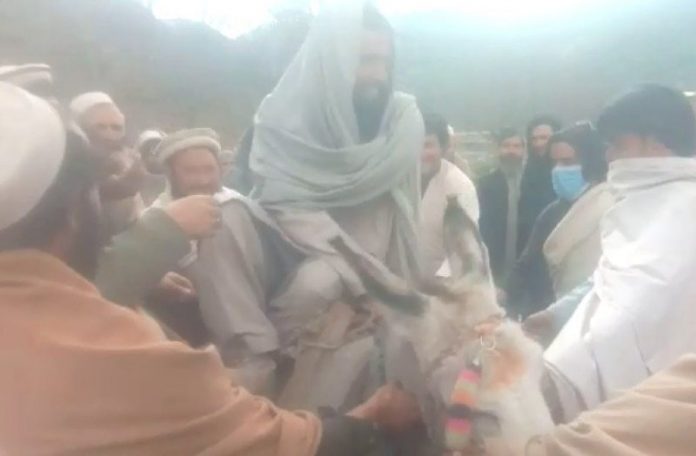 LANDIKOTAL: In an interesting development, the residents in Bar Qambarkhel area in the remote Tirah valley of Khyber tribal district, after being disappointed with the performance of administration and police against drug paddlers, took matters in own hands and punished two alleged paddlers publicly in a disgraceful manner.
A video has gone viral on the social media in which it can be seen that the local residents have caught two alleged drug paddlers, involved in selling ice or crystal meth to the youth, their faces are blackened, heads shaved and they are being paraded on donkeys in presence of a huge crowd. The video of 'making example' the drug paddlers has gone viral on social media within no time.
The intention behind the act is stated to be a loud message for all those involved in drug paddling in the area that they would be disgraced in the same manner if they did not stop their activities. But the incident has also generated a debate that no matter how good are the intentions of the mob, justice cannot be done in this manner and the matter should have been handled by the law enforcing agencies, which are missing from the picture.
Local sources said the two accused, Qudrat and Wadan, failed to satisfy the local Aman Committee and youth over allegations against them after which the extreme action was taken against them. The local people say they had to take this action because police did not act despite numerous complaints.
After merger of erstwhile Fata with Khyber Pakhtunkhwa, the laws of the province are not applicable in merged districts and acts like mob justice have no legal value. However, several such incidents of activities by mob have been witnessed in different tribal districts, particularly in Khyber district, recently.
The police role in the area has come under criticism for being ineffective against drug paddlers and also against mob justice.
The local police has confirmed the incident and says it is taking action against the people involved in the act. Police says no person or group would be allowed to take law into own hands.
Hits: 3