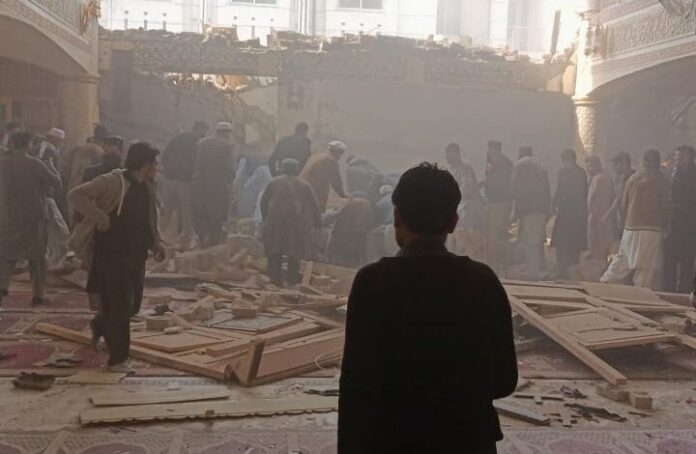 Muhammad Faheem
Peshawar police lines blast, which resulted into 95 deaths and 225 injuries, has raised several questions over the security of important government installation.
On Monday, KP administration department notified additional security precautions to ensure security of civil secretariat. However, the damage has already been done and the security precautions could not make any difference for the dead and injured.
At the same time, the attack on the police lines mosque has left the police department in shock. On the other hand, Tehrik Taliban Pakistan has disassociated itself from the attack, while police is pointing fingers towards Jamaatul Ahrar.
Retired brigadier Muhammad Saad, a security analyst told TNN that all those responsible the security, including provincial police chief and officials of Peshawar police should be replaced.
"If they cannot secure a place, then, they have no right to stay at their seats," he said. He said that in the past eyes were shut on such issues. "If action would have been taken against those responsible in the past, then, this attack would not have taken place," he said.
Besides, he said that today's situation as different from 2009 and 2014. He said that militants were not concentrated in a single place; rather, they have spread to different areas.
"In such a situation a major operation could not resolve the issue of militancy," he said. He said that government has to improve intelligence and rely on intelligence based operations to eliminate militancy.
Entering police lines
Peshawar's Malik Saad Shaheed police lines have a single entry and exit for the visitors.  Vehicular entry is also possible from the Khyber Road, which houses major sensitive installations. On the other hand, those pedestrian could also access it from the Jail Road side. Both these sides have checkpost for the visitors; however, visitors are not checked here.
There is another checkpost at the entrance of police lines, where visitors are properly checked and their identities are noted. Besides, this checkpost has separate entries for vehicle as well those on foot.
In addition to this, police lines has also demarcated into four zones and color coded card is issued to visitors to visit any area. The visitors could not visit area other than that they are allowed to visit.
However, the suicide bomber managed to bypass these checks and managed to carry explosives inside the heavily guarded complex, killing 100 people.
Security lapse
Iftikhar Fidous, analyst and journalist, said that this attack was part of ongoing attacks on the police in other parts of the province. He said that in past one and half years, police personnel have repeatedly come under attack in different parts of province.
However, he said that attack was inside just a mosque, but the area also houses offices of Counter Terrorism Department and other senior officials. "It is security lapse of huge magnitude," he said.
Tariq Waheed, bureau chief of Hum News in Peshawar said police was not clear as to how this Peshawar police lines blast happened.
"The attack has targeted such a place where policies are framed for security of rest of the city," he said. He said that security procedures were on papers but not in real.
Besides, he said the absence of CCTV footage of the attack was also mind boggling.
He said that it was tragic they government did not learnt from such incidents. "For some days, we will witness strict security but eventually all will be forgotten," he said.
He said that no one perhaps presently remembers the action points of the National Action Plan agreed after the Army Public School massacre in 2014.
Hits: 17