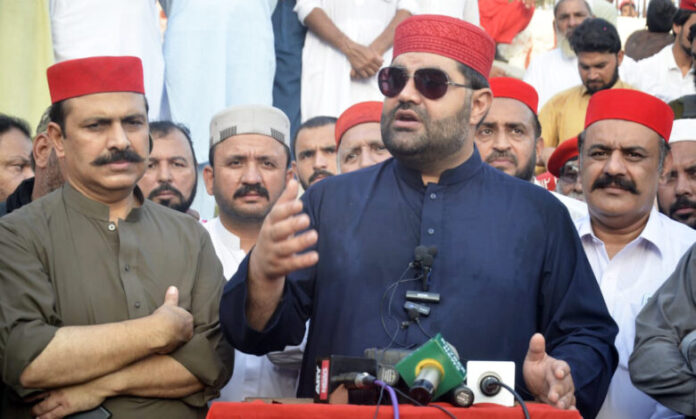 Provincial President of Awami National Party (ANP), Amil Wali Khan, has voiced grave apprehensions regarding the appointment of the caretaker prime minister, asserting that the current caretaker premier is merely a pawn. He urges authorities to ensure transparent elections are conducted.
Speaking at a peace rally commemorating the 75th anniversary of the Babara Tragedy in Khyber, Amil Wali Khan emphasized that ANP would reexamine the Babara Tragedy case if provided the opportunity. Through a thorough investigation, the truth will be unveiled before the global audience.
He highlighted the Babara tragedy as a somber and distressing episode in Pakhtun history. On this very day 75 years ago, Qayyum Khan unleashed violence upon the innocent Khudai Khidmatgars (servants of God), followers of a nonviolent movement founded by Abdul Ghaffar Khan (Bacha Khan), resulting in the loss of over 600 lives. The government not only silenced the peaceful Khudai Khidmatgars but also imposed fines upon them. The martyrs of the national movement, including those of Babara, remain a source of pride for us.
Also Read: Anwar-ul-Haq Kakar: Guiding Pakistan's Transition
Amil Wali Khan underlined ANP's demand for fair and transparent elections within the constitutional timeframe. He recalled that in 2018, the caretaker prime minister failed to ensure transparent elections, and he views the current caretaker premier as a mere pawn. He appeals to genuine forces to uphold the principles of fairness, transparency, and non-interference in the election process.
The provincial president of ANP lamented that since 2018, Pakistan's constitution has been hanging in the balance. While it serves as a guiding document for the people, it holds no weight for powerful entities. That sowing chaos cannot evade accountability under the pretext of human rights. Vandalizing public properties and residences is an infringement that won't be tolerated.
He criticized a supposed leader who is unable to tolerate even a minor inconvenience while incarcerated, yet claims to bring about a revolution.
Amil Wali Khan reflected on the relentless propaganda and conspiracies against Pakhtun elites over the past century. Despite periodic attempts to extinguish the legacy of Bacha Khan's followers, ANP persists, while challengers fade away. As long as there exists a single Pakhtun, the spirit of the Khudai Khidmatgar Movement will endure through ANP.
He further emphasized that Pakhtuns must stand united to safeguard their rights and escape exploitation. Without altering their circumstances, they will remain vulnerable to exploitation.
Hits: 8