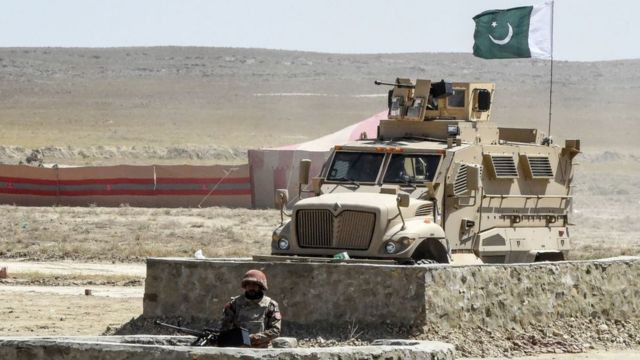 In the Zhob district of Balochistan, a tragic incident unfolded as armed individuals attacked a cantonment, resulting in the martyrdom of four security personnel and injuries to six others.
According to reliable security sources, the assault took place on Wednesday morning when the armed assailants targeted a building within the military cantonment in Zhob. A prolonged exchange of gunfire ensued between the security forces and the attackers.
The sources confirm that four dedicated security personnel embraced martyrdom, while six others sustained injuries during the intense gunfire perpetrated by the armed individuals.
Also Read: Tragic Jeep Accident in Kohistan Claims 5 Lives and Injures 4
In response, the security forces effectively neutralized three of the armed attackers. Presently, efforts are underway to apprehend the remaining two individuals.
Security sources emphasize that intermittent exchanges of fire continue to occur between the armed assailants and the security forces. Consequently, the area has been cordoned off, with police, Frontier Corps (FC), and other law enforcement agencies deployed to maintain order and prevent general traffic access.
Meanwhile, the deceased and injured personnel have been promptly transported to Zhob Civil Hospital for medical treatment.
According to reports from the International Broadcasting Organization, a group known as Tehreek e Jihad Pakistan has claimed responsibility for this attack.
It is noteworthy that Tehreek e Jihad Pakistan had previously claimed responsibility for an assault on a police vehicle near Sibi in March of this year, as well as an attack on Qila Saifullah Cantonment.
Hits: 62