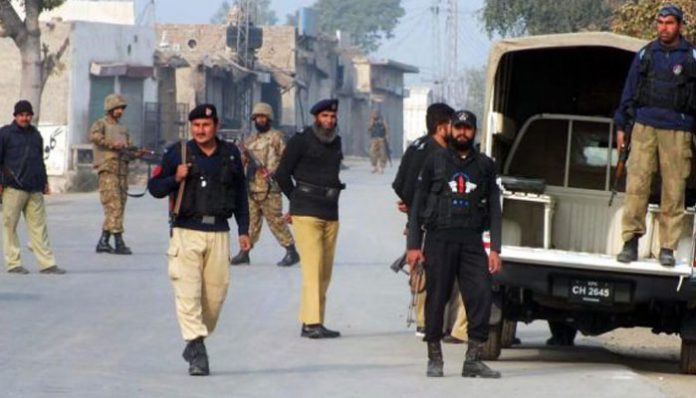 Muhammad Faheem
In response to the recent wave of terrorism in Khyber Pakhtunkhwa, Peshawar is now under a security high alert. To enhance security measures, the police have intensified patrols and implemented rigorous checks on entry and exit points in both the city and its suburbs.
Additionally, extra blockades have been set up in the border regions and tribal areas surrounding Peshawar, especially on the sides adjacent to Khyber, Mohmand, and the former frontier region of Dara Adam Khel.
Also Read: Jeep Plunges into Ditch in Shangla, 5 Killed and 4 Injured
Furthermore, additional police personnel have been deployed along Peshawar's borders adjoining these three areas.
Heightened Security Measures for Ashra e Muharram Amid Recent Terrorist Acts
In light of the recent terrorist incidents, including the Hayatabad suicide blast, the attack on Reggi Model Town Gate, and the Bara police station, strict security arrangements have been put in place for Ashra e Muharram. Over 1,000 sensitive places of worship in Peshawar and other districts are under close surveillance and heightened security.
Roads leading to Imambargahs have been sealed, and checkpoints have been set up at various points in the city, including the inner city. Police personnel are stationed to allow entry only to local residents, who are required to show their identity cards.
More than 1,000 places of worship in Peshawar, Kohat, Hangu, Dera Ismail Khan, and other districts have been identified as sensitive areas, leading to increased security measures on surrounding roads and buildings. Only local residents will be permitted to participate in mourning processions and congregations.
Following the recent terrorist attacks in Peshawar and DI Khan, law enforcement agencies, including the police, have revamped their security strategies, relying heavily on intelligence information to ensure a peaceful Ashra e Muharram.
Three-Level Security Plan Prepared for Peshawar Amidst Religious Gatherings
SSP Operations Peshawar, Haroon ur Rasheed, has confirmed that comprehensive security arrangements have been put in place for Friday prayer gatherings. A three-level security plan has been devised for inner-city mourning processions, with additional measures implemented for all mourning processions and Imambargahs.
The security plan includes thorough inspections by bomb disposal units and sniffer dogs at all important ceremonies, funeral processions, and routes, as well as Imambargahs. CCTV cameras are monitoring processions, religious places, and sensitive areas.
To ensure peace, intelligence-based search, and strike operations have been intensified, and a robust presence of armored vehicles, RRF, ATS, QRF, Ladies Police, BDU, Ababeel Squad, and City Patrol Force personnel are observed. Police officers and personnel are directed to equip with bulletproof vests and helmets during duty.
Army Deployment Approved for Peaceful Ashra e Muharram
At the request of the four provinces and the Gilgit-Baltistan government, the federal government has granted approval for the deployment of army personnel across the country during the month of Muharram.
The number of troops and deployment locations will be determined after consultation with the respective provincial governments and authorities in Islamabad.
This decision aims to ensure peace and order during Ashra e Muharram under Article 4 of the Constitution and the Anti-Terrorism Act, of 1973.
Hits: 7