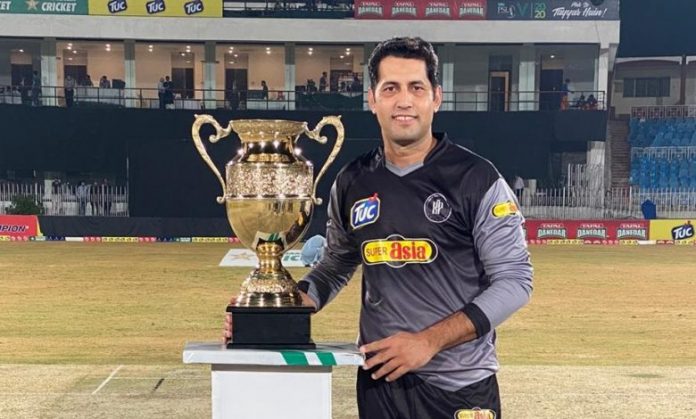 Khalida Niaz
PESHAWAR: The family of cricketer Asif Afridi is over the moon over his selection in the Multan Sultans team for sixth edition of Pakistan Super League (PSL) which is scheduled to complete its matches in Abu Dhabi due to the ongoing coronavirus situation in Pakistan.
Asif Afridi is the latest cricket star to emerge on national scene from Khyber tribal district After Shahid Khan Afridi, Riaz Afridi, Shaheen Shah Afridi, Sameen Gul Afridi, Umar Gul and Usman Shinwari. He completed his graduation from Edwardes College Peshawar and he is playing cricket since 2005.
The 33-year-old left arm spinner told TNN that he worked hard to reach this far. He said he was contacted by the management of Multan Sultans after good performance in the domestic T20 seasons in 2020 and 2021 and they were impressed with his performance also in their camp.
The talented cricketer from Bara made it clear that he has not replaced Shahid Khan Afridi in Multan Sultans, and this assumption has been spread by the media on its own. He said he was already on the radar of Multan Sultans and they were monitoring his performance. He said he got the award of best bowler in this year's domestic T20 by taking 11 wickets in 10 matches and conceding less runs than any other bowler. He said he was also declared best bowler in the one-day tournament in which he took 25 wickets in 10 matches. He is also handy with the bat and plays in the lower middle order.
After starting playing cricket in 2005, Asif Afridi first played U-19 cricket on district and then national level and then played domestic cricket.
"My family did not support me much for cricket earlier as they wanted me to complete my education first. So I also continued my education and showed good results to keep my family happy," Asif Afridi told TNN.
Asif Afridi said his family started supporting him after they realized his cricketing talent. He said his brother Abid Afridi has also played domestic cricket and credits him for giving him very important tips. He said Khyber tribal district has produced world class cricketers, but still facilities for the sport are inadequate in the area.
Asif Afridi said his ultimate goal is to play for Pakistan national team. He has played in Pakistan U-19, Pakistan-A and domestic teams and also played different leagues in Sri Lanka, Afghanistan, India, Bangladesh, Dubai, Oman, Scotland, England and Ireland.
Asif Afridi appealed to the government to provide more facilities to emerging players to that their talent is not wasted. He also appealed to parents to support their talented children who want to make a career in cricket.
Hits: 13