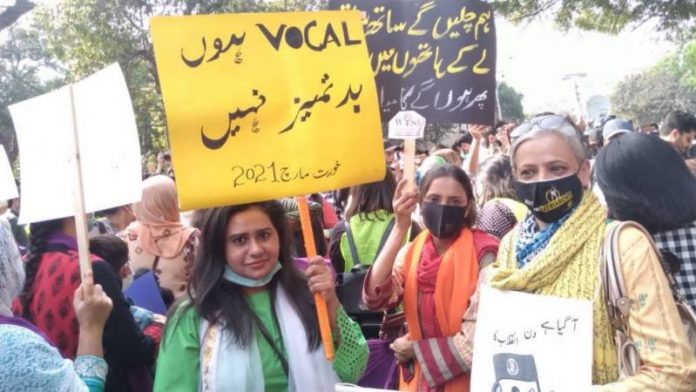 Nausheen Fatima
Since childhood, the month of March was known for two things; March 23 i.e. Resolution of Pakistan, and March 31 when children's school results were out, but now hearing the name of this month only one word comes to people's mind- Women's March- not International Women's Day!
Why?
As usual, I was the one facing the music because these were my classmates; I am doing an online earning course with them these days, so apart from one student, the other two women also expressed their disagreement as usual.
I emptied my glass of water because I knew I had a lot of questions to ask after that.
Yes! For centuries, a movement run by women workers, and in the countries where it changed the laws in their favor, there is no such hatred, so much fear, so why are you this much afraid?
I am wondering if our women are so powerful that a centuries-old movement could not gain the popularity in those countries that it has in a few years in our country.
And this handful of women forced the men of the whole nation to speak against them.
How?
Are they really on the right side of history, for those who speak the truth always face so much disagreement?
A guilty conscience needs no accuser. When you are all satisfied that you are not usurping the Islamic and constitutional rights of your women, how is this commotion?
Or you fear that it might happen that just as you use religion for the advocacy of your very own rights, women as well take account of their rights by using the same religion.
You will give me a separate house from the first day of marriage. Serving the mother-in-law at home is also your responsibility. If a woman does it, it's her kindness!
Does this make you feel uneasy that women now know about many such rights?
If not, why the commotion?
I don't know why one of my brothers felt bad and said why should they panic?
If you are not afraid, then come forward, and stand beside us against those who usurped our rights, we have done what no government could do for seventy or seventy-five years.
On this day, almost all men stand against these women without any discrimination of religion, language, sect, race, ideology, or color, why?
A woman who offers her services day and night, morning and evening continuously throughout the year changes her feelings seeing your facial expressions change. And there you are, you will not agree to even let them celebrate a day!
Nature is beautiful, which makes love and respect mandatory on both sides, and divides all responsibilities. And you who call women weak and fragile, you put all the burden on women, and then you can't even let her speak, why?
Some slogans at women's march you can't understand or those women can't explain their position to you, women are less than half percent of your entire population, and you started hating, making celebrating this day a stigma.
Charity begins at home, if you want to build an exemplary society, start from your very own self.
So it is good that you consider me as a human being, not an object of honor that you disrespect on a daily basis.
You still won't agree with me, why?
"Allah has given the honor to women, so why should we not be respected, everywhere we are appreciated; be it a story, a poem, or a sonnet, a man does not write on himself." These were my friend's words, so I just tried hard to hold back.
Yes, I do have a complaint about those having a taste for literature. Why did you write fiction and presented me as an iron object therein, if you wrote poetry, I was not appreciated but my body, my intelligence, my consciousness, and my skills were never seen by the world.
In every woman's story, I was always portrayed as the one suffering, living at home, and applauded for it, rather than being taught to deal with it.
Whether it is the television or film, you present the woman as an object. And so aside from her talent, all the media made her a decoration piece, do we have the right to ask why?
In fact, why is this asked by the woman who is so scared by the oppression of your society that she has lost her fear? But this path is very thorny and painful!
And secondly, this question will be asked by a woman who has parents who know that both son and daughter are the same and how to train them. Such brave daughters are found only with them; or those who have such a brave brother or husband.
I also accept this wholeheartedly because anywhere International Women's Day does not mean that I hate any gender or want to be superior.
This society needs balance. And here you have to give each gender respect and freedom to lead a peaceful life. Everyone has to be given a calm and safe environment from decisions at home to going to markets and parks because by doing so, you never hurt religion and the constitution but patriarchy.
So for heaven's sake! don't save it, this system has made every gender suffer. If you agree, how?
And if not, why?
We have to admit that we give women educational opportunities, but we could not attract our generation to this in our curriculum, and we could not stop early marriage or honor killing! Even today we are not able to create an environment where a woman can go out and consider herself safe.
Look! if we admit our mistakes, we can fix them. Celebrating International Women's Day, standing beside them is a sin that is being hated so much, why?
Then all of us were silent. Maybe they also feel that answering these questions is very difficult, and in these circumstances, almost impossible.
And yes! There is a difference between arguing and answering.
Do you have an answer to any of these questions?
Nausheen Fatima is a social activist and blogger.
Hits: 11