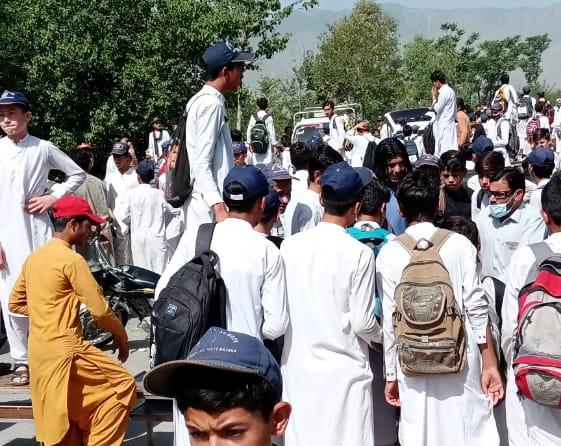 Misbauddin Utmanai
Students of Government Middle Mamond area of Bajaur closed Inayat Killay Road in protest against lack of water, electricity, washroom and chowkidar in their schools.
The students also boycotted their classes.
At least 600 students are enrolled in school's primary section while 550 others in middle section.
District Education Officer Shireen Zada while negotiating with the students said their demands were justified; however, finance department was not taking them seriously.
Qasim, a student at this school told TNN that all the primary and middle sections students took part in the protest. He said that despite repeated making requests to the education department, their demands were not met.
Mr Qasim said that the school's guard retired in 2018 and thus far the school was without a guard. In addition to this, he said that students had to go to their homes to relieve themselves in the absence of a latrine.
"Heaps of garbage is lying inside class rooms while school solar panels, chairs and tables have gone missing," he said.
The student said that they have to take care of school cleanliness, which wasted their time.
Qasim demanded that a chowkidar should be deputed at this school and water and electricity should also be provided. He said that following negotiations, officials promised to resolve their issues with five days.
Umar Saeed, a Pakistan Muslim League (Nawaz) leader also participated in the protest. He said that students' demands were justified and education department should address them.
Mr Saeed the education in merged district was in dire straits while government was busy promoting itself on social media. "Teachers were teaching hundreds of schools in merged areas and if this continued they would not send their kids to schools," he said.
On the other hand, this school was among 41 schools of Mamond area Bajaur, where chowkidar posts were vacant. More than 6000 students were studying in these schools.
On the other hand, schools were also facing shortage of students and only two teachers were teachings in schools where six teachers should have been.
DEO Shireen Zada rushed to school during the protest and said that they had approached the finance department for hiring the school chowkidar; however, they were not ready for this.
However, he promised to resolve the electricity, boundary wall and water issues; however, said that in the absence of chowkidar, amenities were stolen from the school.
"We are ready to install solar panels if chowkidar issue is resolved," he said.
Mr Zada said that there was no chowkidar for both sections of the school. He said that only naib qasid works in the day shift; however, no arrangement was there was for night.
He said that they have approached the police and district administration for security to the school.
Besides, he added that they will register FIR against unknown thieves.
On the other hand, school Principal Khan Zareen said that school chowkidar retired in 2018 and since then there was no one to guard the building.
He said the DEO can hire a chowkidar on the vacant post without seeking approval of finance department. However, Mr Zareen said that he was not sure as to why the DEO was not hiring the chowkidar.
Hits: 7