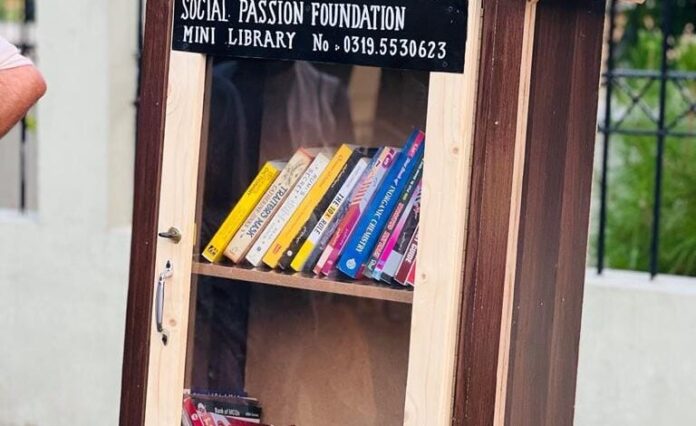 Muhammad Bilal Yasir
The Social Passion Foundation (SPF), a non-governmental organization in Bajaur, has taken a remarkable step toward promoting book reading, and literacy within the local community, particularly among the youth.
The inauguration of the first Mini Street Library was marked by a special event at the Bajaur Sports Complex, drawing a significant turnout of social workers, youth, and sports enthusiasts.
Fayaz Ahmed, hailing from the tribal district of Bajaur and currently a student at the Sociology Department of the Islamic International University Islamabad, initiated SPF a few months ago in June. Shedding light on the Mini Street Library's creation, Ahmed highlighted its aim to cultivate a reading culture, especially among the youth.
Also Read: KP: Alarming Rise in Child Sexual Violence Cases Sparks Concern
The strategic location of the Bajaur Sports Complex, the district's largest sports facility, is expected to entice young people towards books, countering the prevailing trend of excessive social media usage that has distanced them from reading. Ahmed emphasized that while the library will initially encompass a diverse range of topics, the collection will steadily expand.
Expanding on SPF's vision, Ahmed revealed ambitious plans to establish 5,000 mini-street libraries across the nation and 500 within tribal areas. These libraries will find their place at bus stations, markets, tourist destinations, and other public venues.
Abdul Wajid, the leader of 'Ranra Malgari,' an organization dedicated to fostering a reading culture in Bajaur, underlined that the library will operate around the clock, allowing visitors to borrow a book for up to a week. With no designated keeper, anyone interested can simply open the library, read a book, and close it upon completion.
District Sports Officer Taj Muhammad Wazir announced his personal commitment to serving tea to all visitors of the forthcoming library at the Bajaur Sports Complex. He called upon the community to rally behind the NGO's endeavor to promote reading.
SPF organizers shared their plans to expand the mini street library concept to various tourist and sports locations in Bajaur. Their donor support will enable the establishment of these libraries, further nurturing the youth's inclination toward embracing the joy of reading.
Hits: 28