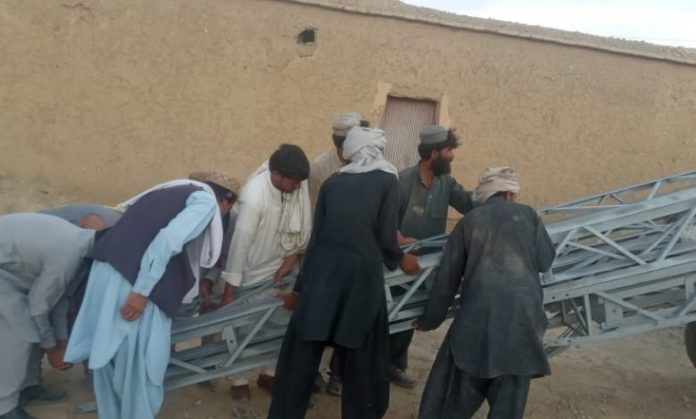 Naik Muhammad Mayal
The devastating August floods destroyed the electricity transmission lines and pylons in the Sharan Rood Jogezai area of Qillah Safiullah district of Balochistan.
Azad Khan, a local told TNN that worked day and night and carried the pylon to the area and restored electricity supply.
However, his village remained without electricity for about a month.
Sharan Rood Jogezai is located 52 kilometers south of Qillah Saifullah. About five years ago village youth has setup a 10 members committee to address electricity related issues of the village. This village according to 2017 census has population of about 20,000.
Balochistan government has provided electricity to this village in 2000; however, more than 23 years on this village is still facing load-shedding up to 21 hours a day.
Master Manan, chairman of electricity committee told that they are always ready to work for the restoration of village irrespective of winter or summer. "Large portions of electricity lines and pylons were washed away in floods," he said. He said that WAPDA provided electricity pylons which they installed on self-help basis and restored 11 villages electricity. However, three villages were still out of villagers.
Manan said that electricity transmission lines passed through the mountains, far away from roads. He said that government should install transmission line close to roads so that their work is easier in case of natural disasters.
Damages to electricity transmission system in Balochistan
August floods have damaged three major transmission lines, 300 pylons and 100 transformers were damaged.
Quetta Electric Supply Company (QESCO) chief engineer Shaukat Khan Jogezai said that all the major damaged power lines have been restored. He said that electricity to these areas.
However, he said that QESCO has rehabilitated the damaged power lines with its own resources.
Hanna and Karkh areas were two most affected areas in terms of damages of power transmission system. However, he said that of late they have also restored power supply to both areas.
Shaukat said that people have been provided relief under Prime Minister Flood Relief package. However, he said that funds have not been released under the summary shared with the federal government so far.
Hits: 13