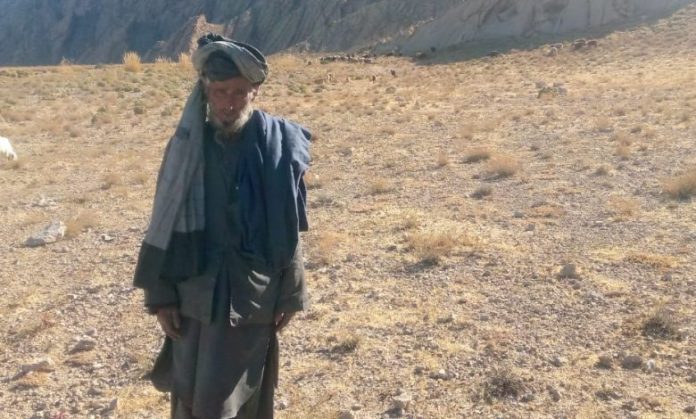 Aziz Sabawun
Muhammad Yar, a herdsman from Salamu village of Loralai area of Balochistan lost half of his herd to the last August devastating floods that wreaked havoc across the province.
"That floods that struck last August have deprived us of everything," Yar said.
He said that he lost his house to the floods soon after the torrential rains and then some of his animals were also lost to the floods. "I am herdsman and lost both the land as well as the herd, which was my sole source of income," he said.
Khalilur Rehman, another herdsman from Sanjwai area is facing also a predicament similar to Muhammad Yar. Sanjwai is located about 190 kilometers from Quetta. Khalil lost his standing crops and 10 cattle to the floods on August 26.
However, these losses have no dimmed Khalil spirits and he is as happy as he was in the past.
Khalil told TNN that he was over the fact that last year rains have ended the long drought spell. "All the area's mountains have come alive," he said. He said that the floods overflowed the local stream and they also lost some cattle as well standing crop of shaftal fodder. "Thanks God, the entire area has come alive after the floods and there is enough fodder for animals now," he said. He said that the mountains were green and animals have enough to eat and that they were hopeful of getting good sums from their livestock.
Widespread livestock and agricultural land losses
Like rest of Pakistan, Balochistan also received heavy monsoon rains from June 15 until the end of August last year. The widespread monsoon rains affected 30 districts of Balochistan.
A Provincial Disaster Management Authority (PDMA) report said that the floods affected more than 1.5 people across the province besides killing 334 people and injuring several others.
Maqbool Jafer, a spokesperson for the PDMA told TNN floods also destroyed over 400,000 acres of agricultural land besides killing 500,000 cattle. "Over 434,000 livestock perished due to the floods while 475,000 acres agricultural land was destroyed," he said.
Similarly, Balochistan chief minister Abdul Quddus Bizenjo told a press conference last week that his government will assist the flood victims. "We will built houses for them, compensate them for their losses of livestock and rehabilitate their flood affected agricultural properties" Mr Bizenjo said.
"God willing we will extend support to all the flood affectees," he said.
The end of two decades long Balochistan drought
Ustad Naeem Taseer, a local environmentalist told TN that long drought had played havoc with the people livelihood and good thing about the monsoon is that this prolonged dry period has come to an end.
Taseer said that last year rain will benefit the herdsmen and other people immensely. "During the drought, small herdsmen were facing troubles; however, after the rains their pastures have come alive with grass and other shrubs" he said.
However, he said that though the compensation for the cattle lost to the rains and other damages; however, rains have also affected the area positively as well.
A 2020 report by an international NGO had stated that about 85 percent of Balochistan population was dependent on agricultural and livestock for the livelihood. The report said that more than two decades long drought had also affected about 80 percent of area's orchards.
It said that rainfall rate in Balochistan province had reduced by more than half over the course of past 20 years, badly affecting eight districts of the province.
On the other, experts also point out that the last year monsoon rains have completely changed the situation and currently there was not a single district in the province was facing drought like situation.
Hits: 7