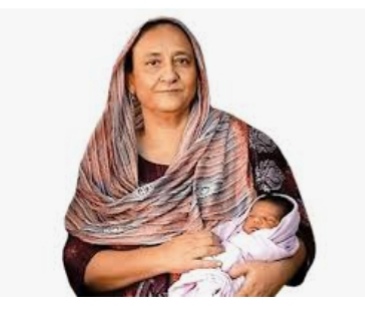 Esha Saima
Bilquis Bano Edhi was the widow of the Pakistan's most prominent philanthropist Abdul Sattar Edhi ,  a nurse and one of the country's most active humanitarian.
She was also called as the Mother Pakistan.
Born in August 14, 1947, her family migrated to nascent Pakistan, where they settled in Karachi.
She had once told a website in an interview that the she had enrolled in nurse training school setup by her husband when she was 16 years old.
She said that keeping her dedication for work in view, Edhi entrusted her with the responsibilities nursing institutions.
Ms Edhi said then few women used to join nursing as profession. She worked tirelessly for about two years and this also impressed Abdul Sattar Edhi and two years later in 1966, they married.
Following their marriage, they started many new charitable projects including accommodations for the displaced women, maternity home and child care. Ms Edhi, supervised all welfare works related to women.
Balquis Edhi Foundation
She setup Bilquis Edhi Foundation, along with her other charitable work. The organization looks after orphaned children and homeless girls and arranges their marriages. She herself used to oversee the work of this foundation along with her two daughters and separate staff.
Savior for out of wedlock children
Cradle was one of her most noticeable charities, which she launched to save the lives of the children born out of wedlock. There is a child cradle outside every Edhi Foundation office across Pakistan. "Do not kill children, put them into cradle," an inscription attached to the cradle read.
These cradles were put there to save the lives of the children born out of wedlock in the conservative country, where their existence is a taboo.  Kids put into those cradles were brought up at the Edhi Centers and Bilquis Edhi was responsible for supervising the adoption of these children.
She said that about 16,000 orphans have been adopted by parents from the Edhi Foundation.
Mother Teresa Award 2015
Bilquis Edhi took care of Gita, a deaf and dumb girl from neighboring India, for 15 years. Gita arrived in Pakistan by mistake at the age of 10 and was handed over to the Edhi Center. India has also acknowledged the tireless efforts of Bilqis Edhi to maintain the religious identity of the Gita and send her back to her country. In recognition of this, Indian government awarded the Mother Teresa Award to Balquis Edhi I n2015.
Amar Guriro, a Karachi based journalist said that he had met her on several occasions and she was good face reader.
He said that he met her along with a French journalist who was making a documentary about the killings of the children born out of wedlock. Mr Guriro said that when they reached at Bilquis Edhi office to interview her, she started keenly looking at the journalist face as he tried to explain his documentary.
When I finished translating the Frenchman to her, she told me to ask the reporter if he was very hot tempered.
When I translated this to the reporter, he was startled, Mr Guriro said. He said that the journalist admitted his rage after earlier denial, upon which the Ms Edhi again asked the reporter whether he also hits his wife.
"The journalist was really shocked and sweat started glistening on his forehead," he said.
Mr Guriro said that later the Frenchman kept asking me how the lady figured out all this.
According to Edhi Foundation, Edhis do now own a home. Biluqis Edhi lived first four or five years of her marriage on the roof of dispensary and after the birth of her children shifted to her mother home.
Her mother was used to take care of her children, as she remained busy to serve the orphans and helpless along with her husband.
The Edhis received the Ramon Magsaysay Award for public service in 1986 and awarded with Hilal-e-Imtiaz by the Pakistani government. Indian government awarded her the Mother Teresa Award 2015 for taking care of Indian girl Gita.
She passed away on April 15, 2022 at the age of 75 in Karachi after a brief illness.