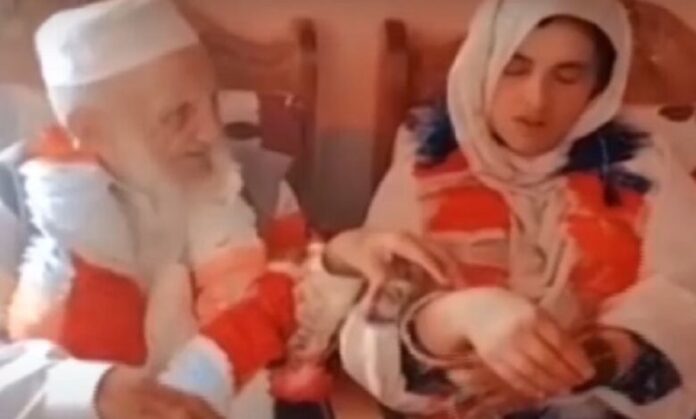 A 110-year-old man recently tied the knot with a 55-year-old woman in the Mansehra district of Khyber Pakhtunkhwa.
As reported by Geo News, Baba Abdul Hanan Swati, who hails from Grathali Juri in Mansehra, entered into his fourth marriage with 55-year-old Dildar Bibi.
Abdul Hanan's eldest son is 70 years old, and his family comprises 84 members, including 6 sons, 6 daughters, and numerous grandchildren and great-grandchildren.
Also Read: Legal Challenge Filed Against Election Delay
The marriage ceremony of Abdul Hanan took place at a local mosque, with a dowry of 5 thousand rupees being exchanged.
A viral video capturing the marriage of Abdul Hanan and Dildar Bibi has surfaced on social media, showing him placing garlands on the bride's hand.
It is worth noting that in a recent occurrence in Mansehra, 95-year-old Muhammad Zakaria remarried with the approval of his children.
According to media reports, Muhammad Zakaria's first wife passed away in 2011. He has 7 sons and 5 daughters from his initial marriage, resulting in numerous grandchildren and great-grandchildren.
Hits: 23