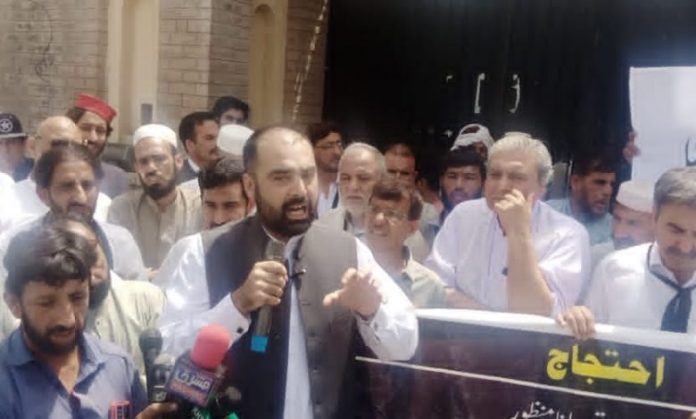 Javed Mahmood
Charsadda journalists on Monday protested registration of FIR against two reporters by medical superintendent here on Monday.
The protesters termed the FIR as illegal, unconstitutional and attack on freedom of the press and demanded suspension of MS DHQ Charsadda.
Political workers, human rights activists and traders took part in the protest along with the journalists. The protesters were wearing black armbands and carrying placards and banners inscribed with slogans against the official.
The protesters walked from Farooq Azam Chowk to the Deputy Commissioner Charsadda office where they chanted slogans against the official.
Earlier on April 22, MS DHQ Charsadda Dr Jehanzeb had got an FIR registered against Rifqatullah Razarwal and Alif Khan Sherpao. The journalists had reported about a protest of the family member s of a child who had died at the hospital.
Addressing at this occasion, Muhammadzai Union of Journalist President Faiz Muhammad said that high handedness against journalist which stared under the PTI government has travelled to the lowest rungs of the government as well.
He said that the Constitution of Pakistan allows freedom of speech for all citizens and exercising the same journalists were amplifying voices of the public.
Mr Faiz said that they will resist those officials attempting to gag journalist voices.
He demanded the KP Minister for Health Taimur Jhagra to take action against the official.
Riaqatullah Razarwal in his speech said that KP journalists exposing corruption and highlighting shortcoming of organizations were being targeted for their reporting in violation of provisions of constitution providing for free speech.
He said that journalist had no issues with anyone; rather, they were performing their duties.
Mr Razarwal demanded both the provincial and district government should ensure journalist access to information.
He said that Afghanistan like situation for journalists where they were tortured for their work was also being created for reporters in KP.
"Journalists will continue to hold the government officials accountable," he said.
The protesting journalist also held a meeting with the DC Charsadda Saddat Hassan.
Talking to TNN, DC Charsadda appreciated the role of journalists and said that they act like a bridge between government and people. However, he asked the journalists to be balanced in their work.
Earlier in April, a Freedom Network report had stated that at least 86 cases of attacks and violations against media and its practitioners, including journalists, took place in Pakistan over the course of one year – between May 2021 and April 2022.
It said that three journalists from Punjab and one were killed in KP.
On other hand, Reporters without Border report on the Press Freedom Day said that Pakistan had further slipped even below Afghanistan on press freedom index. In the ranking Afghanistan number was 156 while Pakistan stood at 157.
Hits: 10