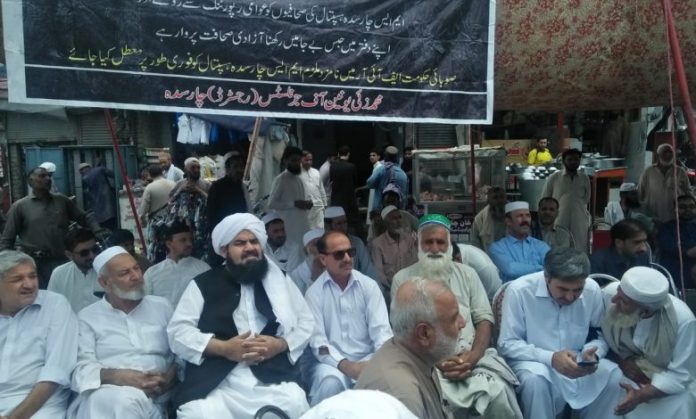 Charsadda journalists have setup a protest camp at Charsadda Chowk against the district headquarters hospital's medical superintendent.
Earlier the MS had detained journalist Alif Khan Sherpao and Rifaqatullah Razarwal for covering a protest at the hospital premises.
The official had also lodged FIRs against the journalists. On the other hand, local journalists are protesting against the official for past many days.
Muhamamdzai Union of Journalists and electronic media members have jointly setup the protest camp at the Charsadda Chowk against the official. A large number of local elders and politicians attended the protest camp.
Awami National Party's KP president Aimal Wali Khan also visited the camp. In addition to this, leaders of the Qaumi Watan Party and Pakistan Muslim League (Nawaz) also attended the protest. They said that detaining journalist was serious crime.
Aimal Wali Khan, at this occasion demanded action against the MS.
He said that if the official was not transferred within 10 days, then the officials will be responsible for any untoward situation. He said district administration should fulfill its responsibilities while journalists should be allowed to do coverage inside the hospital.
He said that PTI local leaders were supporting the official.
The protesters at this occasion said that their protest will continue the transfer of the official.
Hits: 14