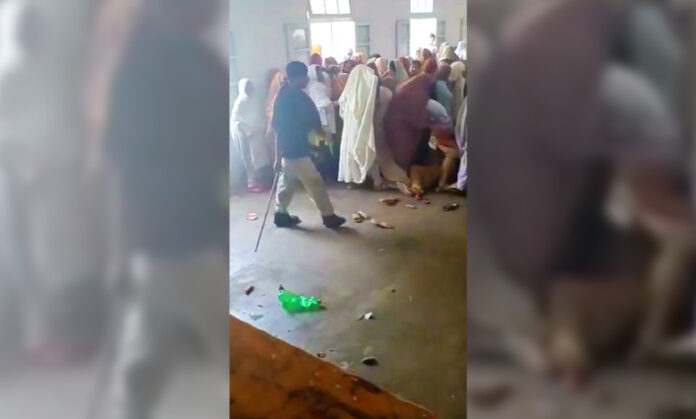 Peshawar: A disturbing video capturing an incident of police brutality during the collection of the Benazir Income Support Program in the Charsadda district of Khyber Pakhtunkhwa has gone viral on social media.
The video depicts a police officer physically assaulting and mistreating women who had gathered at Babara High School in Charsadda to collect their program installments. The video, which quickly gained traction online, shows women being forcefully pushed and beaten with sticks by the policeman in question.
Promptly responding to the incident, Regional Police Officer Mardan, Muhammad Sulaiman, took immediate action by instructing the District Police Officer of Charsadda to initiate departmental proceedings against the responsible individuals. Consequently, Constable Ayaz and Constable Muhammad Zada, who were seen torturing the women in the viral video, have been promptly suspended.
Also Read: Measles Outbreak Claims Lives of 22 Children in Khyber Pakhtunkhwa
In a statement issued by Regional Police Officer Mardan, it was emphasized that the police force exists to protect human rights, and any form of inhumane treatment will not be tolerated.
It is worth noting that Shazia Murree, the Chairperson of the Benazir Income Support Program and Federal Minister, announced yesterday that the government has raised the stipend for Benazir sponsorship by 25%. This increase will result in a fourth-quarter installment of 9,000 rupees for the financial year 2022-23. The distribution of these funds will commence on Monday.
Furthermore, Shazia Murree stated that these stipends will benefit approximately 9 million deserving individuals. To ensure convenience, the funds are being disbursed through 1559 specially designated campsites located across the country.
Hits: 25