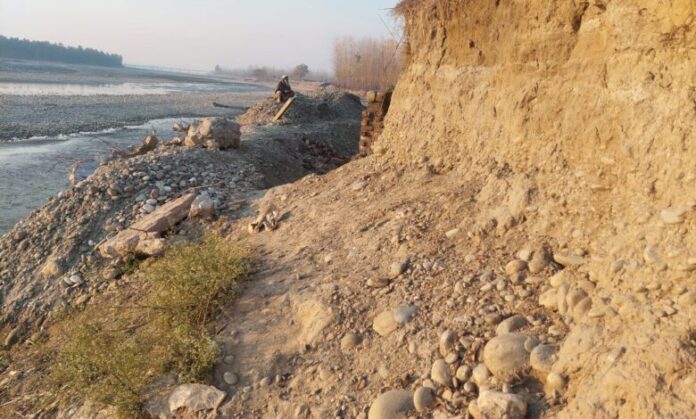 Anis Takkar
Residents of 25 villages located on the banks of Khiyali River in Charsaddda district have demanded authorities to reconstruct the flood protection walls of the area.
The flood protection walls were constructed at the cost of Rs 35 million a couple of years ago. However, majority of these walls had badly damaged in the last year floods.
Shaukat Ali,  a resident of Hisar Yasizai told TNN that these walls greatly saved their village from destruction in floods. He demanded that these walls should immediately be reconstructed to protect against flooding in next monsoon.
"These walls have been badly damaged in last year floods," he said. He said that these walls saved 25 villages of the area in last year floods.
"If it is not due to these walls, then the floods would have swept these villages," he said.
He said that since now the river flow was at its minimum due to the winter and authorities can spare allocation from emergency funds for the purpose.
Abid Khan, a local told TNN that construction of walls was substandard which led to damages to them. He said that the authorities constructed cross spurs instead of straight flood protection walls.
He said that cross spurs stopped the flow of river and since the filling on the backside was of mud, which led to damages to the walls. "Government should immediately repair these walls," he said.
Irrigation department's stance
Shamshad, an official of irrigation department said that last year was too high and caused damages to the flood protection works.
He said that they were striving to work on the restoration of these works.
He said that the Prime Minister had also announced package during his visit and this may lead to starting work on the flood protection works.
The residents have demanded the authorities to immediately repair these walls to save the area from floods.
Hits: 18