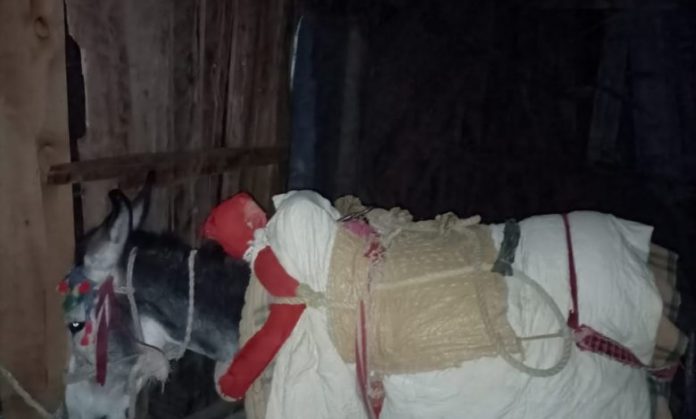 Gul Hammad Farooqi
A local court in Chitral has ordered confiscation of two donkeys which the authorities had caught while smuggling timber sometimes ago.
The court also imposed fine amounting to Rs 50 each on the accused involved in the smuggling case.
Earlier in October last year, Assistant Commissioner Drosh had seized five donkeys while foiling a timber smuggling bid from Drosh Gol area. In addition to this, police personnel had also nabbed one of the accused while the four others had managed to escape from the scene.
Assistant Commissioner Drosh Tauseefullah announced verdict in the case the other day.
The appearance of donkeys before the court had then made international headlines.
Akram Hussain Advocate, counsel for the accused informed the court that his client Inam owned one of the donkeys and incarceration of lack of proper food could adversely affect the animals health.
This will be in violation of animal rights, he said. In addition to this, he said that his client also fear misuse of his animal during captivity.
Besides, he said that his children were close to animal and they considered the donkey as their family member.
He also said that donkey was among the endangered species in the country and his animal was likely to get weaker and losing its ability to carry loads in the custody of the government.
The court had directed to handover the animal to local saw machine owner for keeping.
On the other hand, locals of Dorsh Gol told TNN that they have sold most of their donkeys due to constant raids of the AC Drosh. "These animals had turned into a burden for us," a local said. Besides, they said that prices of the animals have also dropped due to the declining demand.
The local also complained that that the animal caught while smuggling were also mistreated and forced to carry heavy logs of timber in extreme weather for more over a distance of over nine kilometers.
Incidentally, the grey colored donkey which the owner later claimed as his family members was dragging two huge logs of timber when it was arrested.
During the hearing before the court, the accused Inamullah and Aziz confessed their crime and called for clemency. They also promised to not cause any more harm to the forest.
Following hearing the arguments, the court ordered to confiscate the donkeys to end animals' mistreatment. Both the animals will be auctioned later.
Similarly, the court also ordered to confiscate the recovered timber.
However, keeping in view the financial condition of the accused, the court imposed Rs 50 each in fine on them while arrest warrants were also issued three other accused.
Some days ago, AC Dorsh had also ordered confiscation of a ten wheeler truck for smuggling timber. The truck was caught while trying to smuggle timber within hidden caches built inside its body.
Hits: 7