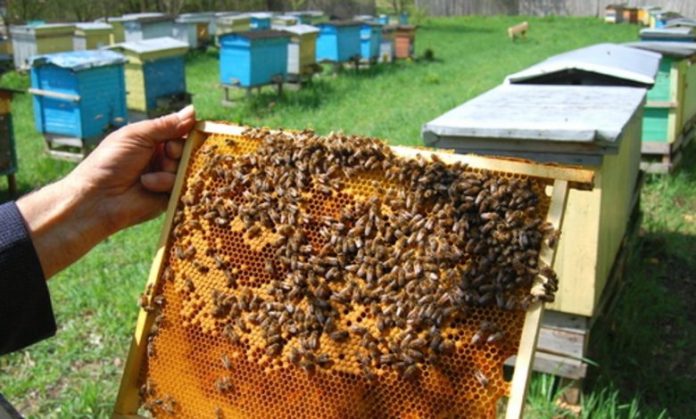 Iftikhar Khan
PESHAWAR: Gulab Shah from Nowshera was satisfied with growth and production of his honeybees and making preparations for his marriage until the heavy rain and flood on the night of July 28 shattered his plans.
Gulab Shah had kept about 200 boxes of honeybees on the bank of river in Shinkiari area of Mansehra district to protect them from hot weather, which were washed away in the flood after heavy rains. He suffered loss of Rs1.4 million. He was not alone facing the loss as 20 other honeybee keepers, who had kept about 3,000 boxes near the river, were also washed away.
"I lost my investment of last eight years. I was hoping to repair my house and arrange marriage expenses from my income this season, but it was not in my fate," the 28-year-old beekeeper said while talking to TNN.
Experts say the impact of climate change has reduced honeybee production in Khyber Pakhtunkhwa and rest of the country by 35 percent during the last few years. According to data available with All Pakistan Beekeepers, Exporters and Honey Trade Association, 15,000 metric tons honey was produced in the country last year, while this production is expected to be lower than that. Ten years ago, the honey production in the country had reached 30,000 metric tons, and the KP's share was 10,000 metric tons, but last year, KP could produce only 5,000 metric tons.
The Association senior vice president Sheikh Gul Badshah said climate change is the main reason behind reduced honey production. He said medicines to cure diseases of honeybees could not be imported in time last year due to coronavirus pandemic due to which a lot of honeybees perished. He said honeybee keepers faced a loss of about Rs30 million this year and many of them are now thinking about leaving this business.
Direct and indirect impact of climate change
Pakistan is among top-10 countries affected from climate change, and experts say the country faces losses of about $6 billion due to this factor every year. Besides life losses, agriculture sector is the biggest victim.
Dr Hussain Ali, a researcher on honeybees at agriculture farm in Nowshera, said honeybees are directly and indirectly affected by climate change. He said the intensity of weather affects production capacity of honeybees. He said honeybees like moderate weather and keep the temperature around them at 35 degrees centigrade. In winter honeybees rub them against each other to keep their colony warm, while in summer, they bring water to their colony and create cooling effect by constantly buzzing their wings.
Dr Hussain said when the bees keep busy in maintaining specific temperature then the production capacity is decreased. He said climate change particularly impact the wild honeybees. He said the number of honeybees colonies per kilometre has reduced significantly due to untimely rains, winds and other climate conditions.
Dr Hussain said indirect impacts happen when honeybees collect pollens from flowers. He said pollens of flowers are often lost during heavy rains and winds. He said few years ago, the berry honey season lasted between mid-August to end of October, but now due to climate change, the flowers blossom late and this season now starts from mid-September, and bees get little time to collect food.
Beekeepers Association general secretary Sher Zaman Mohmand said despite short season, if the weather is good, then production is about 10,000 metric tons in one and a half months. He said the price of honey has almost doubled in local market due to reduced production.
Human actions
Dr Hussain said honeybees can't get enough food due to change in crop pattern. To cite an example, he said sugarcane is now grown by farmers instead of maize in Dera Ismail Khan, which has affected honey production.
Honeybee keepers said the insecticides used by farmers on their crops prove dangerous for honeybees. The farmers also don't have other choice to deal with different issues of their crops. Dr Hussain said Pakistani honeybee keepers are still using decades-old methods, while the developed world is using modern methods and equipment to increase honey production.
Global market in Peshawar
The honeybee business peaked in Pakistan after the 1980's after arrival of Afghan refugees when the UNHCR helped the refugees to start this business. As most of the refugees were in KP, so a large honeybee market was established at Tarnab Farm which got international attention. The market has 1,200 owned by Afghan and Pakistani traders.
Sher Zaman said most honey exports of Pakistan are made from this market, but now due to reduced production, exports are also impacted. He said Pakistan exported 26,000 metric tons honey in 2011, but now the situation has changed. He said the US and European countries no longer import honey from Pakistan due to quality issues, while exports to Gulf countries are also negligible due to reduced production.
Sher Zaman said exports were also impacted due to coronavirus last year, and they were hoping for good exports this year, but heavy rains dashed their hopes.
Govt efforts for improving production
Gulab Shah and his 20 friends have send applications to National Disaster Management Authority (NDMA) hoping for compensation, but they did not get any response. The NDMA says the issue is a provincial subject, so they forwarded the applications to the Provincial Disaster Management Authority.
Idrees Mehmood, Member Disaster Risk Reduction, told TNN that the applications have been received, but compensation is not the PDMA's responsibility.
The PDMA spokesman Taimur Khan said the PDMA will write reply to NDMA and the cases of compensation would be sent to relevant districts. The PDMA regulations don't have specific mention about compensation for loss of honeybees, which is a cause of grave concern for honeybee keepers. Honeybee keepers often complain that their trade is not given the status of an industry by the government.
KP govt plan
The KP government has decided to invest in the field of beekeeping and preparations are being made to launch a huge project in 10 districts in the first phase.
The project chief Dr Muhammad Younas said the purpose of the project is to improve the quality of locally produced honey, provide employment to people and improve exports.
Gul Badshah said most of the trees used in the Billion Tree Tsunami project are not of any benefit for honeybee keepers, which shows that promotion of this business is not among the priorities of the government.
Hits: 65