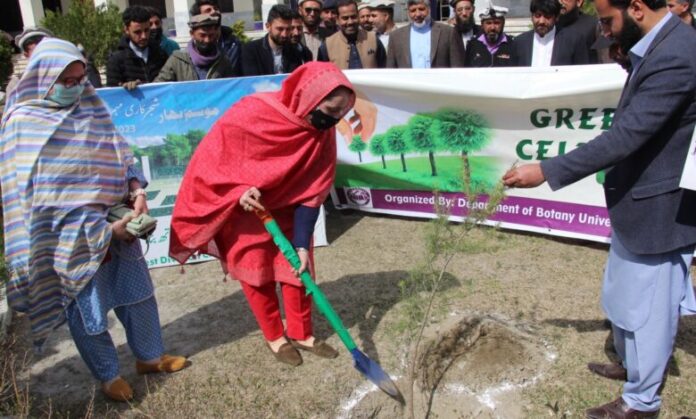 Asmat Khan
The government of Pakistan, threatened by climate change, stresses the need for Afforestation, asking its citizens to plant more trees in order to avoid the adverse effects of climate change.
As per the experts, after last year's devastating floods in Pakistan, it was recognized internationally that more forests can prevent such disasters. At the same time, we should plant more trees as a charity because the more trees we have we can avoid the adverse effects of the environment and climate change.
In this regard, around 3000 free saplings were distributed among the students during the Green Day ceremony at Chitral University to create awareness among the students.
Speaking on the occasion, the experts said that Chitral is a dry region where the mountains often remain barren due to the lack of monsoon rains, which is why the people of Chitral have a greater responsibility to plant trees everywhere in order to prevent the loss of forests.
Chitral University's Vice-Chancellor Professor Dr. Zahir Shah said that plants are not only essential for human survival but also fulfill all the needs of humans and animals.
Divisional Forest Officer Asif Ali Shah also highlighted the importance of plants and trees.
He said that we cannot stop natural calamities until we control the loss of forests, these trees and plants provide us with fresh oxygen and reduce the speed of floods.
Gulzar Rahman, a conservator, said that Pakistan is among the 10 countries most affected by climate change.
To combat climate change, he said, 78.93 million saplings are being planted in Khyber Pakhtunkhwa during the ongoing spring season with the help of government departments, NGOs, farmers, and ordinary people.
As per Gulzar Rahman, about 27.460 million saplings in Kohat, Peshawar, Hangu, Bannu, DI Khan, Karak, Tank, and Lakki Marwat, 30.190 million in Haripur, Abbottabad, Mansehra, Butgram, Kohistan, and 21.28 saplings in Malakand, Swat, Malakand, Dir are being planted.
He said that apart from the target of planting 77,569,444 forest plants, 783,693 ornamental or garden plants, and native species including cassia fistula (or the golden rain tree), jasmine, Bottlebrush (or Callistemon), Rose, Sonata, Arjun, Alstonia (Indian Pulai) and 580,209 fruit trees including Almond, Guava, Groundnut, and walnut are distributed among the people.
The conservator further said that about 56.277 million saplings are being planted through farm forestry and 42.402 million saplings are being planted by farmers.
He said that 1.1308 million saplings were planted under peri-urban plantations and 3.075 million saplings by the public through village development committees, 5.429 million by defense forces, and 2.123 million by educational and religious institutions, government departments, and other institutions.
According to Gulzar, communities, students, teachers, and the general public are being involved in achieving the set target while 654.27 million saplings were planted under the 10 billion trees project till December 31, last year.
Hits: 15