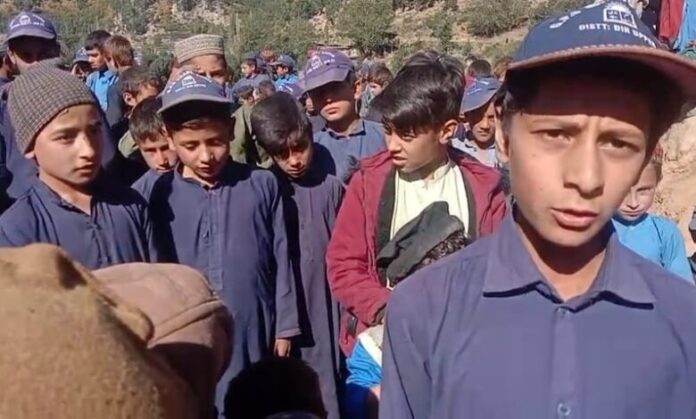 Zahid Jan Dirvi
Students and parents from the Loinal Maktab School, situated in the Thal area of Upper Dir's Kalkot tehsil, are vehemently opposing the proposed closure and relocation of their school. They argue that this decision would add a substantial two and a half hours of travel to their daily routine since they previously had to journey to the distant Shang Primary School in another village.
Jan Bahadur, a resident of Thal, expressed the challenges the children faced when commuting four kilometers to Shang village for their education. He highlighted that taking into account the public demand and the hardships faced by the students, the District Education Officer (DEO) of Upper Dir, Abdul Rehman, established a primary school in Loinal a few months ago, effectively addressing the issues faced by male and female students.
Currently, the school caters to 131 boys and girls who can comfortably attend school and return home each day. Nevertheless, an individual named Abdul Wahab from Shang has filed a complaint with the Provincial Education Secretary against DEO Abdul Rahman, seemingly motivated by personal interests aimed at closing the newly established school.
Also Read: Crackdown on NCP Vehicles Looms in KP's Malakand Division
Jan Bahadur firmly stated that the local community and students would not permit the primary school's closure under any circumstances, reaffirming their commitment to having their children educated in the same school.
Students attending the school conveyed their gratitude for the ease and convenience it provided, especially by eliminating the hours of travel they previously endured during both winter and summer. They pledged to continue their studies at this school and expressed their intent to protest if any attempt is made to close it.
Conversely, Abdul Wahab, who submitted the complaint against School and District Education Officer Upper Dir Abdul Rahman, clarified that his objection was not against the establishment of the school. Instead, he sought an inquiry against DEO Abdul Rahman for transferring teachers from the school, a decision he vehemently opposed.
Abdul Wahab defended his request to cancel the school's establishment order, explaining that it was an outburst of anger, not a reflection of his stance against the school. He emphasized that if his request negatively impacts the area and students, he is prepared to withdraw it and continue efforts to replace DEO Abdul Rahman.
District Education Officer Abdul Rahman affirmed that alleviating students' difficulties and ensuring they have access to all available educational facilities are his top priorities. He stated, "For me, all people and schools across the district are equal. I have no personal affiliations here, nor am I a resident of Upper Dir. However, as the district education officer, it is my duty to resolve issues wherever children face challenges in their education."
According to him, Abdul Wahab's baseless application has unjustly harmed the students in an underprivileged area like Thal. The establishment of Loinal Primary School was a rightful initiative that addressed students' needs and fulfilled the demands of the community.