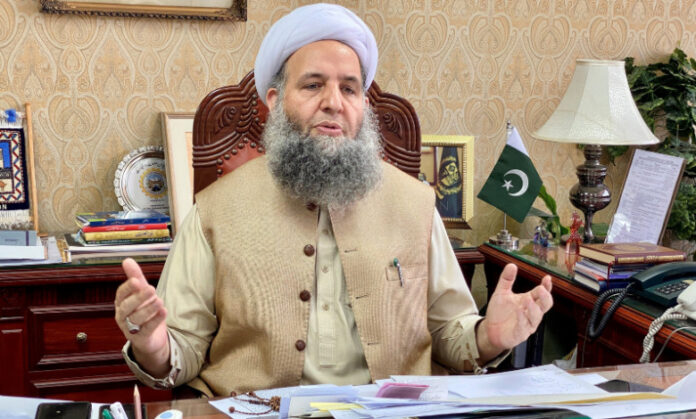 Former Federal Minister for Religious Affairs Allama Dr. Noor-ul-Haq Qadri has found himself embroiled in controversy as an alleged audio clip of him has gone viral on social media.
In the audio message, which was shared in a WhatsApp group, Qadri can be heard urging his supporters not to let themselves be arrested under any circumstances.
Speaking in Pashto, the former minister addresses his party workers, expressing awareness of the ongoing situation and emphasizing the need for caution.
Qadri states, "I am addressing all of you. We were already aware of such incidents, and we are not taking this lightly. We are putting in our utmost efforts."
Also Read: Tragic Honor Killing Claims Lives of Married Couple in Lower Dir
Qadri goes on to mention that Khyber PTI district's General Secretary, Amir Khan, sought his advice on the matter. Qadri claims to have instructed Khan not to make any arrests.
Since May 9, the former minister reveals that he has been in hiding, refraining from returning home or visiting familiar places where he used to frequent, constantly changing his location.
With a party directive in place, Qadri informs his comrades that those who can evade arrest should do so, as more cases could potentially be filed against them after their apprehension. He urges his friends to remain patient, assuring them that this challenging period will eventually pass.
As the alleged audio clip continues to circulate on social media platforms, it has sparked intense debate and speculation, raising questions about Qadri's involvement in recent events and his strategies for navigating the unfolding situation.
Hits: 23