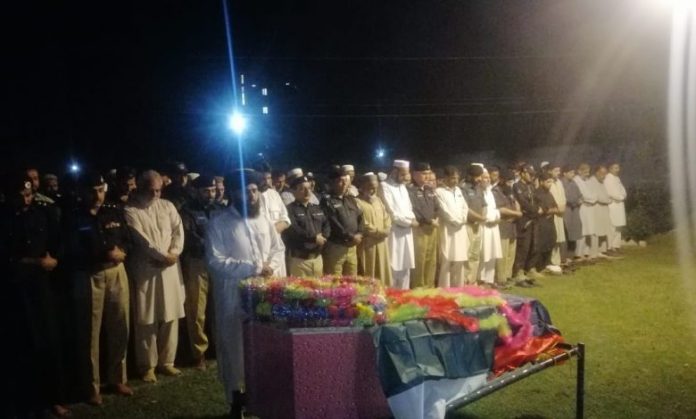 Rifaqatullah Razarwal
A policeman was martyred when an improvised explosive device (IED) went off in front of the Nisatta police station in Charsadda on Friday.
The blast took place just before the iftari and police constable identified Raham Bacha was martyred in the blast.
Charsadda district police officer Sohail Khalid told TNN that uknown miscreants had planted an IED next to police station gate, while another IED weighing around 800 grams was lobbed at a police constable deputed at the post.
However, he said that there was no security alert issued regarding the attack.
DPO Khalid said that neither someone has claimed responsibility for the attack nor there have been any arrest made.
However, Arshad Mohmand, a correspondent of VOA Deewa Radio tweeted that outlawed Tehrik Taliabn Pakistan has claimed responsibility for the attack.
KP Minister for law Fazal Shakoor Khan, who belongs to Charsadda, condemned the attack. He said that terrorism incidents have surged over past month; however, added that government will overcome terrorism by next year.
He said that the attack on police station could be in response to the killing of mastermind of Koocha Risaldar attack.
Mr Shakoor said that terrorism incidents have recorded increase after the Taliban have captured Afghanistan after the fall of Kabul.
The martyr police official is survived by six children and a widow. He was associated with police department for past 25 years.
His funeral prayers were offered at the police lines and he was later laid to rest in his ancestral graveyard in Panirak.
Awami National Party KP president Aimal Wali Khan in a statement paid tributes to the police martyrs.
Separately, a man was killed and three others were injured in a remote controlled blast in Mamond area of Bajaur district.
DPO Bajaur Abdul Samad Khan said that the blast which took place in Eirab area of Bajaur targeted a local identified as Abdur Rehman.
Also, a local was shot dead in an apparent incident of targeted killing in Mir Ali area of North Waziristan. The slain was identified as Syed Manoor.
Hits: 5