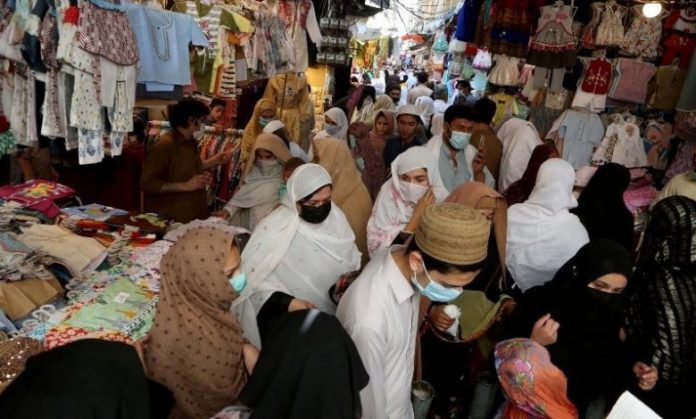 Salma Jahangir
PESHAWAR: Eid is a great blessing by Almighty Allah for Muslims after the holy month of Ramazan.
Every Muslim starts preparation for the Eidul Fitr according to his/her affordability with the start of Ramazan. People from all segments fully participate in Eid festivities every year.
Since the arrival of coronavirus pandemic last year the festivities of religious festivals have diminished to a great extent as the virus spreads rapidly in case of people mixing up with each other. Now during the last 10 days of Ramazan, everyone is making efforts to complete the Eid shopping as soon as possible before the imposition of lockdown which will remain in place during the entire Eid holidays.
Eid is just few days away, but the festivities, which used to begin right from the start of Ramazan, are not visible anymore. Eid shopping used to start right from the start of Ramazan, but since the last year, the trend of shopping has significantly reduced. Huge rush used to be seen in bazaars after Iftar for Eid shopping, but this time, this is not happening as the government imposes lockdown after evening as corona cases have witnessed a sharp increase during its third wave in Pakistan.
The traditional hustle and bustle in the shops selling bangles, and henna is also not seen this time and few customers are seen. A large number of women also used to go to beauty parlors on the eve of Eid after finishing work at homes for make-up, but this time it is unlikely because the government has imposed ban on all such activities before Eid. Coronavirus has come like a flood which has washed away all the beauties and festivities of Eid.
Despite the grim corona situation, women are still playing a commendable role in making the Eid celebrations attractive by keeping the houses clean, arranging new clothing for them and children and cooking delicious foods for family and guests. Most of women say they are prepared to celebrate inside their home this year and they would cook delicious foods and enjoy the occasion.
However, some women are a bit concerned as they would be able to observe fashion and make-up in parlor as they previously used to do.
Eid is a collective celebration during which Muslims hug each other and visit each other's houses as a tradition. However, this time extra caution is needed during Eid amid the coronavirus threat. Everyone has the right to fully celebrate the occasion, but precaution is also needed as health and safety and also very important for individuals and society as a whole.
Hits: 15