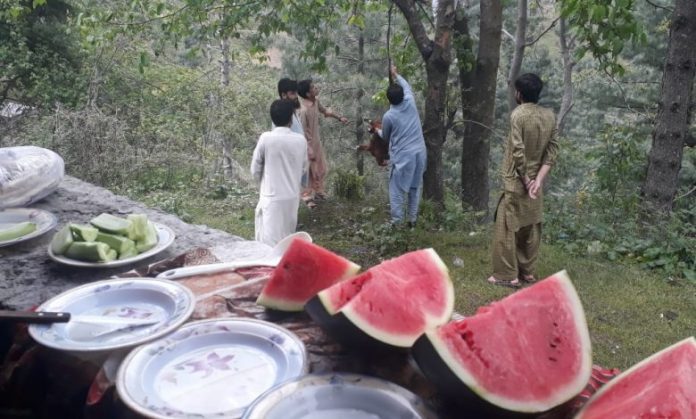 Tariq Aziz
SHANGLA: The picturesque Shangla valley, having about 70 percent mountainous area, attracts many tourists due to its beautiful landscape and scenic beauty.
Many people in Shangla are associated with coalmining, but with the development of social media, the scenic beauty of Shangla came into the knowledge of people of the country and tourism started here, which also created tourism-related work opportunities for locals.
Although tourism sector had not developed according to its true potential even before the outbreak of coronavirus, but the arrival of the pandemic has further aggravated the situation and small time vendors associated with tourism have lost their jobs or in some cases their business has been impacted.
Yakh Tangay area of Shangla, which is situated about 10 kilometres from district headquarters Alpuri, is an attractive tourist destination due to regular rain almost on a daily basis in summers which makes its weather very pleasant. There is natural stream on the mountain in the area where there is a fruit shop where fruit is offered to tourists after making it colder in the stream water. Ali Khan, the owner of the shop, is associated with fruit business for last 29 years. He said his business has suffered a lot during coronavirus lockdown and he has lost 80 percent of his customers.
Ali Khan said he brought 150 mounds of water melons during Eid days last year and all were sold off. However, only 40 mounds of water melons have been sold this year. He said he had earned Rs1.5 million last year, but this year he could not earn anything even during Eid days. He said some tourists are now arriving in the area after relaxation in the lockdown by the government from May 16.
A tourist, Ijazullah, told TNN that he wanted to come during Eid days, but couldn't do so because of lockdown. He said he comes here every year, but activities are lesser this year due to corona threat.
Another tourist, Fazlullah said the reduced number of tourists has affected local business.
A hotel owner, Rizwan said customers are fewer who are coming from nearby areas. He said business has been affected as very few tourists from other parts of the country arriving.
Hits: 15