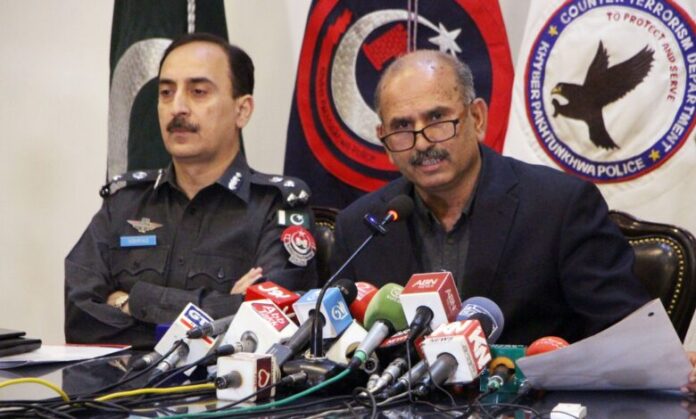 A. Mohmand
The Counter-Terrorism Department (CTD) of Khyber Pakhtunkhwa, along with the police, has successfully neutralized one terrorist and apprehended another involved in targeted killings of clerics, minority citizens, and Shiites.
These terrorists had planned to carry out acts of terrorism during the month of Muharram. According to the police, the terrorists are affiliated with ISIS.
During a press conference at the Malik Saad Shaheed Police Line, Additional IG CTD Khyber Pakhtunkhwa Shaukat Abbas and CCPO Peshawar Ashfaq Noor announced the joint operation conducted by CTD Police and Peshawar Operational Police against the terrorists associated with the banned organization. As a result of the operation, one terrorist was killed, and another was arrested.
Also Read: Kohat Police Rescue Abducted Woman and Children, Arrest Kidnapper
The Additional IG stated that the terrorists were responsible for the targeted killings of four scholars, three members of the Sikh community, and one Shia individual between March and June of this year. Initial investigations revealed striking similarities in all these incidents, including the use of a 30-bore pistol as the murder weapon.
On June 25, 2023, a Christian individual named Qamar Mushtaq was targeted for murder in University Town Peshawar. The accused managed to flee and reached Umar Gul Road via Canal Road and Bhana Mari Industrial Road near Qamar Din Garhi Bridge. However, he encountered the Ababeel Squad during his escape.
When signaled to stop by the Ababeel Squad, the accused started firing indiscriminately at them. Three members of the Ababeel Squad were injured in the gunfire. In response, the accused, riding a motorcycle, was neutralized by the counteraction of the Ababeel Squad. The police recovered a 30-bore pistol, a motorcycle, two SIMless mobile phones, a BRT card, and an Afghan citizen card under the name of Khalid, son of Musafir from the deceased accused.
Preliminary investigation identified the deceased accused as Zafar, son of Nasrullah, a resident of Rashid Garhi in Peshawar. He was found to be an Afghan national. The recovered pistol shell and CCTV evidence confirmed his involvement in the targeted killing incidents. Using the mobile phone and other evidence found on the deceased accused, CTD traced the remaining group members and subsequently arrested the main accused, Aminullah, son of Gul Muhammad.
CTD has initiated the investigation and interrogation of the arrested accused. The motorcycle and pistol used in the incident were recovered from the accused's possession. The police expressed their determination to apprehend the remaining members of the group soon.
They further disclosed that the arrested terrorists had also planned to carry out terrorist activities during Muharram. CTD Khyber Pakhtunkhwa, along with other security agencies, is committed to eradicating terrorism and ensuring that no terrorist organization flourishes.
Hits: 25