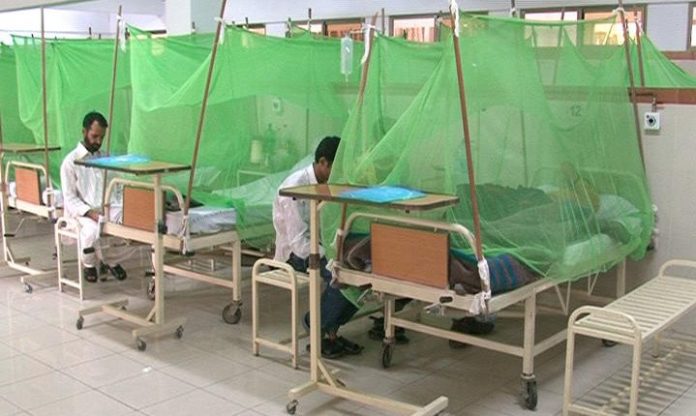 Anila Nayab
Dengue fever reaches epidemic proportions every monsoon and hundreds of patients are admitted in hospital this year too. Dengue is viral infection and also called break bone fever and there exists no treatment for it.
Health experts point out that platelets count of dengue patient drops rapidly. Platelet count of a normal person ranges from 150,000 to 450, 000 platelets in micro liter of blood; however, in a dengue patient this drops below 50000 platelets or even less than that.
What is dengue?
Dengue is viral infection transmitted to humans through bite of infected mosquito and according to the World Health Organization (WHO) dengue virus is transmitted by female mosquitoes mainly of the species Aedes aegypti and, to a lesser extent, Ae. albopictus.
Dengue situation in Khyber Pakhtunkhwa
KP Health department figures show that about 100 patients were currently admitted in hospitals across the province and so far 5513 patients have recovered from the virus.
In addition to this, 333 cases of dengue were reported during past 24 hours, pushing the number of active cases to 1438.
Peshawar reported 156 cases, Mardan 92, Swabi and Charsadda 20 and 21 cases respectively.
What doctors advice about dengue?
Professor Dr Ziauddin, a Lady Reading Hospital (LRH) specialist said that the dengue was a mosquito borne illness. He said that female mosquitoes of the species Aedes aegypti  and  Ae. Albopictus transmitted this virus to humans through bite, spreading the virus in patients body.
He said that mosquitoes of these species thrived in fresh water like swimming pools, old tires and water buckets.
Dengue symptoms, treatment and precautions
Doctors point out that dengue symptoms cause high fever coupled with bone pain. Sometimes these symptoms also include nausea, vomiting, diarrhea and extreme weakness.
In addition to this, sometimes the patient also develops rashes on their skin.
In extreme situation, the patient starts hemorrhaging from nose and gums. In addition to this, the virus can transmit to another from person from a patient.
Doctors said that the patients can also feel behind their eyes due to swollen lymph nodes. Some people could be asymptomatic
Dr Ziauddin said that soon after the symptoms appear in patient, one should immediately contact a doctor. In addition to this, the patient should start using panadol and paracetamol besides monitoring white blood cells as their numbers drop in dengue.
In case of drop of platelets count, the patients' needs transfusion as loss of white blood cells can lead to hemorrhaging.
Dr Ziauddin said that in order to prevent the dengue, one must use anti-mosquito spray around homes. In addition to this, utensils containing water should be properly covered.
Besides, one must be careful in the morning and evening when mosquito bite chances were high.
Hits: 72