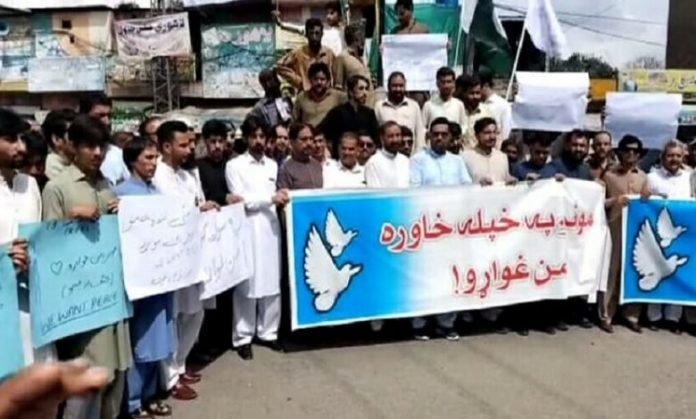 Muhammad Faheem
Swat, the scenic tourist spot is again in the news due to the incidents of violence and residents have taken to street to press for peace. Earlier this week, a member of the local Amn Committee was killed along with seven others in a remote controlled bomb attack while another peace committee member was also shot dead. Besides, extortion is also on the rise in the district.
Incidents of extortion are on the rise in all parts of the Khyber Pakhtunkhwa as 39 such cases have been reported to the Counter Terrorism Department during the current year. On the other hand, a large number of people have reportedly paid the extortion silently. CTD figures show that out of 171 accused nominated in extortion cases, 96 were still at large. Similarly, three accused were killed in CTD raids while three others have been convicted.
CTD has also managed to block at least 60 SIMs used in extortion. Besides, this 142 Afghan SIMS were also being used for terrorism
Swat's first drifted into vortex of militancy in the Awami National Party's rule in the province (2008-2013) and a large number of party leaders and workers were targeted for standing against terrorism.
Muhstaq Yousafzai, a senior Peshawar based journalist said that Swat's lawmakers and their families have shifted to Peshawar and Islamabad after recent incidents of terrorism and demands of extortion. Mr Yousafzai said that district's situation was deteriorating after the clash between Taliban and security forces in Matta area of the district earlier last month.
He said that the recent killing of eight people in Swat blast and attack on Lower Dir MPA Malik Liaqat was fuelling sense of inssecuriyt among the public.
Psychological aliments on the rise due to militancy
On the other hand, violence and lawlessness in different parts of the province was driving mental anxieties among public and they were visiting psychiatrists and psychologists.
Dr Sadia Shafiq, a psychiatrist said that reemergence of Taliban in Swat has impacted locals and people from Swat, Kurram and South Waziristan have contacted her for treatment.
However, she said that in contrast to past though the mental agony would not be much widespread; however, it will still affect many people.
Ms Shafiq said that in contrast to past this time around the fear was known and people were anticipating it, therefore, it would not affect much. "Only psychologically weak will be affected and we need to take care of them," she added.
She said that many of those affected were women in the 20 to 40 years age.
Militancy impact on economy
Thousands of Swat people rely on tourism for their livelihood and demise of tourism industry in the past has nearly driven them to hunger. Dr Fariha Sami, assistant professor of economics at Shaheed Benazir Bhutto University Peshawar in 2010s, there were losses worth US $ 60 billion in three years alone.
She said that this time around the economy was still reeling under the impact of Covid-19 pandemic and floods and it could not bear another shock.
Besides, she said that political instability was another challenge to the economy. "Political stability is also important besides law and order," she said.
However, she said that this time around all these challenges needed to face at the same time and there appeared to be little strategy to tackle them.
She said that lawlessness in Swat and merged areas will drive investors away from the country thus it will baldy affect the Pakistan economy as well.
Hits: 126