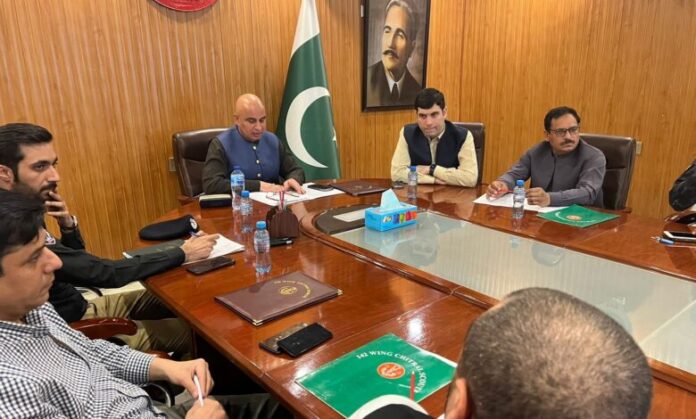 A high-level meeting, chaired by the caretaker minister Alhaj Taj Muhammad Afridi, was held to promote bilateral trade and remove barriers at the Torkham border.
The problems of traders, transporters and local people were discussed and various suggestions were made for their solution during the meeting.
On this occasion, Deputy Commissioner Khyber Abdul Nasir Khan, DPO Khyber Salim Abbas Kalachi, SHO Landi Kotal Haji Akbar Afridi, Adnan Khan, Yawar Hayat, NLC Colonel Sattar, Security Forces officials, Assistant Commissioner Landi Kotal Arshad Khan, ex. Member Provincial Assembly Alhaj Shafique Sher Afridi, Tehsil Chairman Haji Shah Khalid Shinwari, Haji Abdul Wahid Afridi, FIA officials, and local businessmen were also present.
Also Read: Pakistan to ease restrictions for patients & transit at Torkham border
The caretaker provincial minister, Alhaj Taj Muhammad Afridi, urged all the stakeholders to identify the problems. He said that there is no obstacle in the system in Karachi.
He asked which institution in Torkham is causing these problems.
He emphasized to all the stakeholders that it is important to bring up the obstacles in the trade in the upcoming meeting.
Caretaker Provincial Minister for Relief and Population Alhaj Taj Muhammad Afridi said that all departments should play their role to improve import and export at the Torkham border so as to provide employment opportunities to traders, transporters, and local people as well as prosperity here.
He said that there are difficulties in clearance at the Torkham border due to which large vehicles are parked on the Pak-Afghan highway from Torkham to Jamrud and the highway remains closed.
The caretaker minister said these difficulties can be eliminated by making the Torkham border easier.
Hits: 15