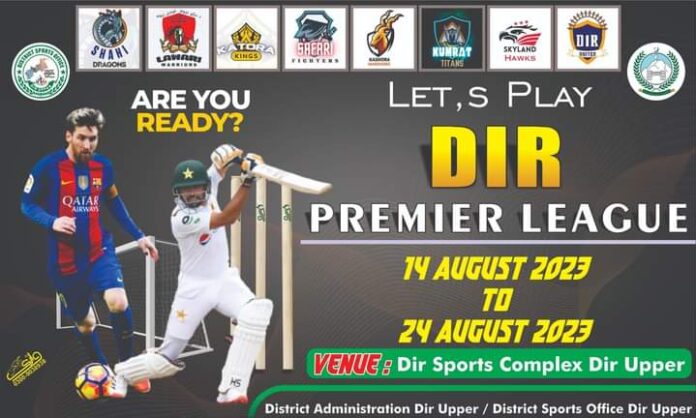 Zahid Jan Dirvi
The Dir Premier League (DPL) fair is set to commence on August 14th at the Dir Sports Complex, featuring prominent players from the national cricket team. The auction for sixteen franchises has been successfully concluded.
The inaugural Day and Night Dir Premier League, organized with the collaboration of the District Administration and District Sports Office of Dir Upper, is scheduled to kick off on August 14th at the Dir Sports Complex.
The DPL management reveals that a total of 16 franchises exist within the league, comprising 8 franchises for cricket and 8 for football teams.
Siddiqullah, the District Sports Officer, shared with TNN that due to the enthusiastic support from the District Administration and Deputy Commissioner Gohar Zaman, the Sports Office decided to launch the first Premier League coinciding with Independence Day. All preparations have been finalized for the event.
Also Read: National Assembly Dissolved, Caretaker PM Process Initiated
Siddiqullah elaborated that the DPL will span from August 14th to 24th, encompassing ten days of sporting festivities at an open-air venue. Not only participants from Dir Upper district but also from all corners of the nation will partake in this event, which promises to bring cricket and football enthusiasts together.
He further emphasized that the event will not only provide entertainment to the locals but also attract tourists from all across Khyber Pakhtunkhwa, offering them the chance to relish the pleasant weather and captivating landscapes.
The local community has voiced its delight regarding the festival, expressing that the DPL will not only entertain the residents of Dir Upper district but also invigorate the people of Dir City and its neighboring areas. It will create a platform for players to excel in both cricket and football.
Usman Khan remarked that significant sports events hosted at Dir Stadium benefit not only the players and the public but also the vendors and shopkeepers. He highlighted that this ten-day event will run day and night, offering economic opportunities to the less privileged.
Owner Hashmatullah of the DPL franchise, Lowari Warriors, underscored the festival's significance in boosting tourism in the district. He emphasized that apart from enhancing the area's image, the mega event will showcase the Dir Upper district nationally and internationally. Tourists from around the globe will be introduced to the scenic attractions of Dir, Kumrat, and Lowari.
Hashmatullah revealed that his team includes prominent players like Kamran Ghulam from the national cricket team and PSL star players such as Ehsanullah and Mohammad Haris. He highlighted that local players will gain valuable experience by competing against national team players, and the local audience will be treated to high-quality matches on their home ground.
The ten-day DPL extravaganza is scheduled from August 14th to 24th at the Dir Sports Complex. It will showcase cricket during daylight hours and feature floodlit football matches during the evening.
Hits: 11