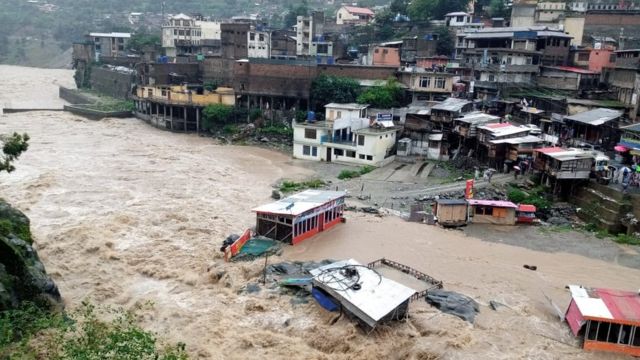 Rifaqatullah Razarwal
Khyber Pakhtunkhwa scenic district Swat is one of the most popular tourists' spots of the province and thousands of foreign and local tourists visit the district.
However, recent floods and resurgence of militancy in the district has dimmed the tourism of the area causing losses worth billions to local economy.
Every year World Tourism Organization marks the September 27 as the World Tourism Day to improve any area's economy, environment and cultural heritage through tourism. However, on this day, Swat's tourism is heaving under the impact of double blow of floods and militancy.
August 9 incident in Matta area, where Taliban took a police and a military officer along with three other soldiers hostage for a couple of hours, dealt a blow to area tourism. Though the officials were released after negotiations; however, reports of the Taliban presence caused panic and fear among the tourists.
Ihsanullah, a resident of Charsadda district who used to visit scenic spots of Swat every year in August along with his friends; however, cancelled his plans this year.
He told TNN that reports about the presence of armed people in district forced him to scupper his plans to visit and they instead headed to Murree.
Swat Hotels Association President Zahid Khan told TNN that currently there were only a few tourists in the district and losses for past month alone amount to Rs 10 billion.
"A tourist staying in a hotel room of Rs 1000 to Rs 2000 rent will spend thousands of rupees of touring the area and other activities which sustained other businesses" he said. He said that currently hotels and restaurants were lying deserted which showed that there were no tourists in the districts.
The association figures show that there were 500 hotels and 700 restaurants in the districts and they employ about 60,000 people.
However, Mr Khan said that the besides those directly employed in tourism sector, business of bakeries, cosmetics', grocery stores, vegetable and fish sellers was also badly hurt.
Mr Khan said that Swat district had earlier in 2007 gone through painful spasm of terrorism and militancy and peace was restored at great cost. However, he said that they were confident that militancy has been crushed and it would not rear its head again.
At the same time, Mr Khan said that recent resurgence of militancy in the district was a question mark over the security apparatus performance.
However, he said that police carry out operation in those areas, where there reports of militants' presence and there was complete peace in the district. In addition to this, about 15,000 law enforcement personnel have been deployed to ensure security of tourists.
A report released by the KP Tourism and Culture department on September 26 said that a total of 270 tourists have visited Kumrat and Malam Jabba areas.
Saad Bin Awais, a spokesperson for the department when approached for comments said that decrease in number of tourists was due to the destruction of infrastructure in the floods.
"This is why people less tourists are visiting Swat," Mr Awais said.
Professor Dr Muhammad Naeem Qazi, a faculty at the department of archelogy, University of Peshawar said that tourism played a crucial role in economic development and preservation of its archeology and environment.
Dr Qazi said that Pakistan was tourist destination and besides scenic places, it also had archeoglocial heritage dating back to thousands of years including Ghandara sites of Takhta Bhai, Jamal Ghari, Shahbaz Ghari and Dera Ismail Khan. He said that thousands of tourists visited these places and played crucial role in Pakistan economy.
Besides, he said that tourists also bring foreign exchange to a country and their spending led to uplift of local living condition.
Regarding the Swat situation, he said that law and order situation was currently quite good and law enforcement agencies had the potential to deal with few armed men.
"We had witnessed similarly situation in 2007; however, security forces cleansed the area after operation," he said. Dr Qazi said that this issue will also resolve very soon.
Hits: 91