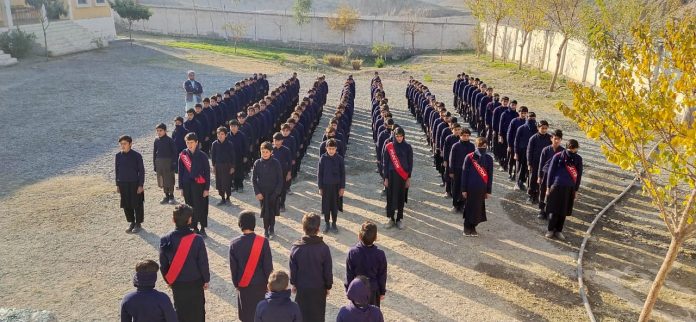 Sher Alam Shinwari
PESHAWAR: A teacher devoted to his teaching profession has advised educators to work with spirit of bringing a real change in the society and those not having the vision should not join teaching job either.  Educator, in fact is the agent of change in the society and if and whenever a strong will was aroused, 'change' will become inevitable to change everything comes in its way, says Zamarli Shah a primary school teacher in the remote Tirah valley, district Khyber.
Zamarli Shah who has been working as Primary School Head Teacher (PSHT) in remote Tirah valley of district Khyber for the last over 15 years spared some moments with this scribe and poured out his head and heart  on his tough journey and hardships he had been through during his risky career.
"In my initial days of my service,  I used to live under constant threat of being attacked by militates but time and again I walked to local community and tried to convince them about the benefits of education of both boys and girls,  some time I would feel as If I was drawing their wrath on me but then few would take my side and most I would win the argument ," Mr. Shah recalls .
After receiving masters in political science from Peshawar University he joined teaching profession with the spirit to   bring about a change in the tribal area plagued by endless war for over several decades. He was deputed to a newly built government school in Bazar Zakhakhel locality, Sra Shaga Malak Nabat Khan Kallay, some 70 km away from main Landikotal subdivision of district Khyber.
"It was 2007 when schools across Khyber Pakhtunkhwa including tribal areas used to be bombed and teachers especially female teachers either threatened or killed. Being inexperienced, the situation was even was no more than a nightmare but I determined to strengthen my foot. I approached the local community to send out their children, my door to door campaign in the area paved way for me and after a few days, parents felt secure," . Shah narrates.
Though the school was under construction, basic facilities –washroom and wall boundary were still missing but he did not care and instead he preferred staying as guest after school time at the Hujra of local Malak.  He had a rare opportunity to share views with residents on the importance of education.
"After years of struggle, the same school stands prominent in the area comprising two rooms and one teacher for over 300 students from one to grade six.  I teach seven to eight subjects.  My students can read and write Urdu and English fluently and also are well versed in other subjects.  Lessons on environment and cleanliness and physical fitness given in addition to routine lessons," he stated.
Talking about response of the local community, Shah says that parents were pleased with visible change in the behaviour of their kids and wanted more educational facilities for their children.  He says that out of 38 GPS for girls and boys, 20 GPS are being run with one teacher only and recently KP education department has pledged approval of more teaching staff along with other facilities.
"I give weekly tests to students on General Knowledge, language , art, drawing and Math and I get excellent response from them, though poor but intelligent as their pickup power  is extraordinary . Also I arrange occasionally food, sports and cultural galas for improving overdevelopment of the kids.  Children are respectful and seen taking care of wildlife and plants around them and are longing for to continue education as most want to become doctors, engineers and join forces to work for their people and land," Zarmali Shah concludes.
Hits: 15