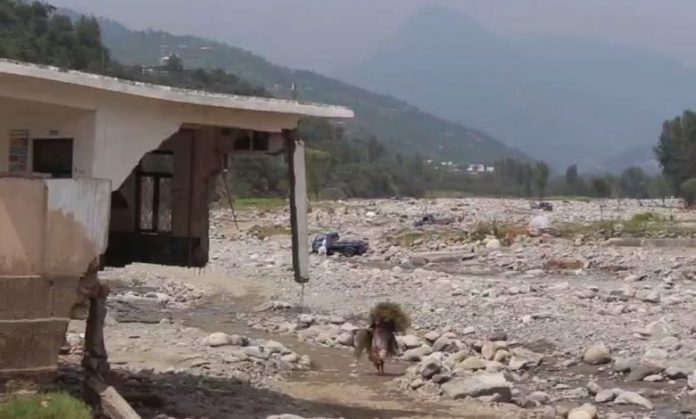 Sundas Behroz
Social media has helped throwing light on condition of the flood affected people from the remote corners of province.
I also came across a similar which was showing flood affected people trying to salvage whatever was left of their household valuables.
In this video, a minor girl was seen trying to collecting her mud splattered books from the debris of her flood affected home. Holding the mud splattered book in her arms, she was perhaps thinking about the uncertain educational future, staring in the face.
Her dejected face in the video forced me to think about future of children in the flood affected areas where raging waters have washed away schools, damaging their building and dealing blow educational dreams of the children.
School destroyed by floods in KP
KP academic year was just about to start when the floods struck. However, the floods forced many a children to sit at home. Records showed that floods have affected around 17,566 schools across the country while 5492 other schools were turned into shelters for flood affected people.
On the other hand, human and manmade disasters have always affected the education sector in general and women education in particular.
Girls' education and schools have been consistently targeted during the Taliban insurgency. Covid-19 pandemic also badly affected the education in the country.
KP education department figures show that a total of 1,100 schools were damaged or destroyed across the province. The figures show that 246 schools were fully destroyed while 838 were partially damaged.
When Prime Minister Shahbaz Sharif visited Baluchistan after the floods, Ikraumullah, a student of class VII asked the premier not tent or ratio, rather, educational facilities. The teenager considered the lack of education as the main reason for the backwardness of his province.
Ikramullah wants teachers teaching students at the empty schools of his area so that they catch up with the rest of the world academically.
On the other hand, most the schools have also been affected in those areas with little tendency for education. The recent destruction caused by the floods has made it even more difficult for continuation of education.
Similarly, poverty is a major challenge for in those areas, which keeps children engaged in labor instead of schools
How to address the educational losses
Pakistan spends little on education and in the current economic scenario it is anybody guess that how government is going to address these losses.
Punjab education minister Murad Raas told a TV channel that government was working to rehabilitate damaged schools after the floods. However, regarding reconstruction of the destroyed schools, he said that they will consider this in future.
Can the educational losses could be compensated with repair of damaged schools alone. What do you think we should do so that our already beleaguered educational system is not further damaged?
Hits: 99