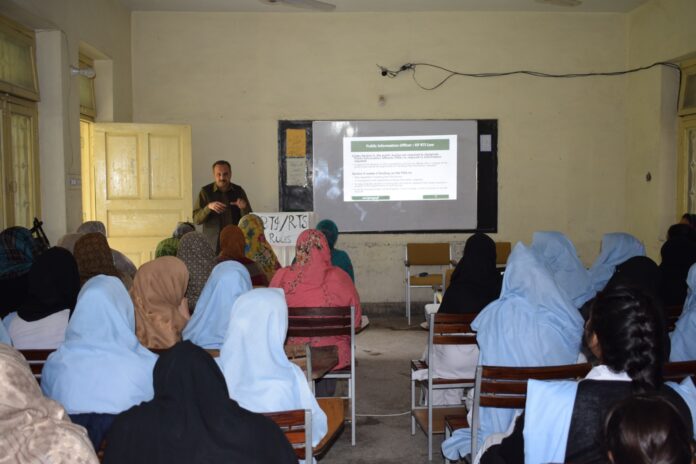 Raynaz
A few days ago, I participated in a youth training program conducted by CGPA, during which I encountered a term that piqued my interest – the "Right to Information Act." This concept implies that every citizen has the privilege to access various forms of government information, with the exception of a few constitutionally protected institutions. This revelation led me to ponder whether we indeed possess the right to inquire about our entitlements.
To satiate my curiosity, I approached the trainer and asked, "Could you provide more insights into the Right to Information Act so that we can assert our rights?" In response, he offered further guidance.
The Access to Information Act, also known as the Right to Information Act, is a legal framework that enables us to obtain information from any institution within our country. These institutions are obligated to furnish us with information. Pakistan is among the 130 countries worldwide with access to information laws.
Also Read: Pervez Khattak's New Party Faces Uphill Battle for Political Relevance
Allow me to furnish you with examples of the type of information we can request. For instance, we have the right to know how our tax contributions are being utilized, including the progress and details of ongoing projects. Similarly, if we have taken a government job test and believe we performed well, yet someone else is selected, we can request the merit list from the relevant institution.
Furthermore, if we file a complaint against a governmental institution or officer due to their underperformance, we can inquire about any actions taken in response. We also have the right to probe into the budget allocated for our country's development projects and how those funds have been expended.
In essence, as citizens, we possess the right to access information pertaining to any expenditure of our tax money. You may be wondering how to access this information and the procedure involved, so let's delve into the process of obtaining information from an entity.
The method is straightforward. A citizen must simply submit a written request on plain paper specifying the type of information needed. The concerned institution or officer is obligated to respond within 10 to 20 days. If they fail to provide the information, the citizen can seek assistance from the Information Commission. In the application, the citizen should include their name, address, identity card number, mobile number, or email address, among other details, to ensure they receive answers to their queries.
It's essential to note that there are certain categories of information that citizens cannot access, such as personal information that could harm an individual or information related to national security.
It is incumbent upon all citizens to recognize that the Right to Information Act is designed to empower them. Consequently, we should raise our voices and assert our rights, ensuring that they are respected and upheld.
Raynaz is the exam controller at KIPS College Mardan and a blogger focusing on gender and social issues.