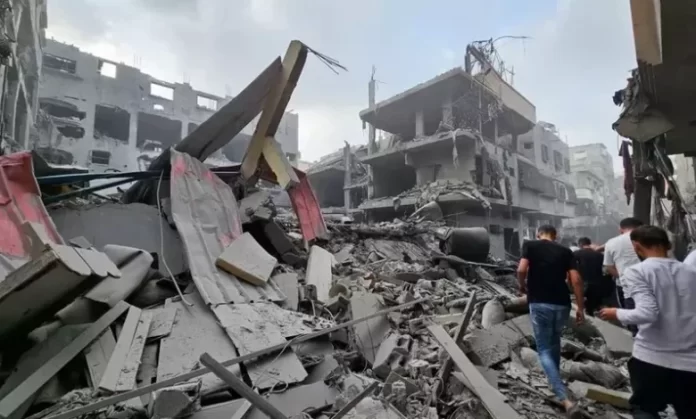 At least 436 Palestinian individuals, including 182 children, lost their lives due to 320 missiles launched by the Israeli armed forces after a failed attempt to enter Gaza. The Israeli Defense Minister has issued a threat of a coordinated land, air, and sea assault on Gaza. In the meantime, two Israeli hostages were released by Hamas.
Late last night, the Israeli military unleashed 320 missiles on Gaza following an unsuccessful entry attempt. The Gaza Ministry of Health reported 436 casualties, including 182 children.
Since October 7, the total death toll has risen to 5,087, with 2,055 being children.
During the evening hours, the military also carried out attacks in the residential area of Khan Yunis, and further casualties are expected. At present, 12 hospitals and 32 medical centers have been incapacitated in Gaza.
Also Read: Health Department Urges Removal of Police Occupation from Civil Hospital in Upper South Waziristan
The Israeli Defense Minister has issued a warning of a coordinated attack on Gaza involving land, air, and sea forces.
According to reports from foreign media, two Israeli women hostages were relocated from a specific crossing point. The age of these women is approximately eighty years.
These women are currently receiving medical care in a hospital in Tel Aviv, and have been reunited with their families.
Israeli Media outlets reported that the spouses of these women are still in captivity in Gaza. Previously, the Palestinian Resistance Organization released an American woman and her daughter.
In the meantime, fresh attacks by Israeli forces persist in the West Bank, leading to the demise of two more Palestinian individuals, while an American-Israeli soldier fell victim to a missile strike at the Lebanese border.
A third convoy transporting relief supplies, including 34 trucks laden with food and medicine, has arrived in Gaza. In an official statement, the Foreign Minister of the Palestinian Authority issued severe criticism of the United Nations Security Council, expressing that the organization's failure to prevent the ongoing tragedy renders it inconsequential.
The United Nations official, in her statement, conveyed the indescribable situation in the region. The dire circumstances have left 15,000 refugees without essential resources. Urgent provisions, including insulin and various medications, are required. We earnestly appeal to the international community to intervene and save lives.
Protests against the ongoing hostilities are taking place across different nations including Sweden. Thousands of individuals have taken to the streets to voice their opposition.
Despite prohibitions, protestors in Paris gathered in a display of solidarity and made an impassioned plea to international bodies to halt the atrocities in Gaza.