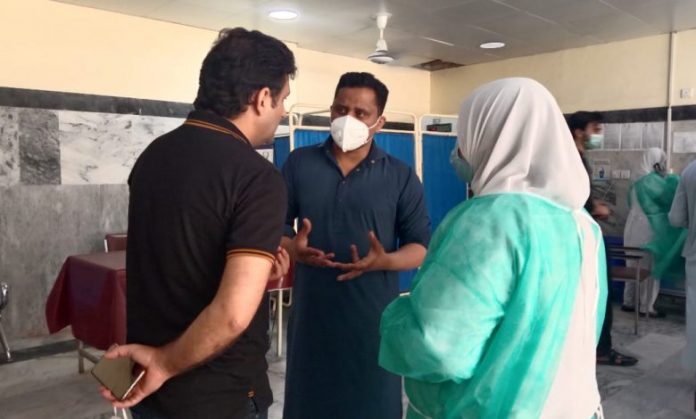 Rani Andleeb
PESHAWAR: Although the third wave of coronavirus has slowed down in Pakistan, but still it killed 20 people and infected over 900 others on Monday.
This shows that the threat still exists, while problems are also being reported from different parts of the country regarding the vaccination process. In main places like Islamabad, a large number of people are coming for vaccination and many remain deprived due to its short supply, protests are also held in many areas against non-availability of vaccine, while there are still many people who plainly refuse to undergo vaccination as they believe in different superstitions.
Dr Zubair Bhatti, in-charge coronavirus vaccination at the Lady Reading Hospital, the largest public sector hospital of Khyber Pakhtunkhwa, said while talking to TNN that the hospital is currently administering Chinese and British vaccine to those who are coming for inoculation. He said the vaccines are safe in all respects and there are no side effects. He said all the citizens above the age of 18 years can undergo vaccination from any designated centre. He said the vaccine is equally effective for men and women.
Dr Zubair Bhatti said Sinovac, Sinopharm and Cansino all are effective for lactating women and there are no side effects. He said English vaccine is also fine for lactating women and it will have no impact. He said no adverse impact has been noted after administering coronavirus vaccine.
Dr Bhatti mentioned that some non-sense type rumours are circulating some of which are that those undergoing vaccination would die after two years; women would go infertile; unwanted hair will grow on women's body etc. However, he said, nothing of sorts happens and people are continuing to undergo vaccination to save them from corona.
Dr Bhatti said lactating and pregnant women must not miss corona vaccination, and they must not worried about the results. He said people, particularly the women, must not pay heed to negative propaganda against corona vaccination. He said those talking against vaccination have no proof to authenticate their claims. He said precautionary measures and vaccination are the only measures to save ourselves from the dangerous disease.
Hits: 26