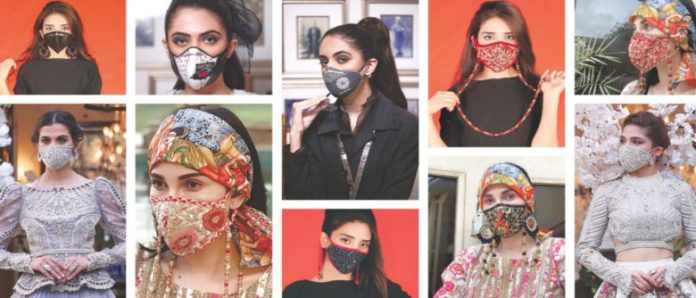 Rani Andeelb
Face masks which become part of a attire during the pandemic has gradually turned into part of female attire as many a women are using it to cover their faces.
Most of the males have stopped wearing masks following the easing of the Covid-19 restrictions; however, it has become a part of women fashion.
Those families where women observe purdah or hijab have now started to wear mask as part of hijab. They wear duppatta and don mask to cover their faces.
Hijab refers to head covering used by the Muslim women.
These days' women have started to wear the mask as fashion and middle class women usually wear masks of matching colors with their dresses. On the other hand, women from affluent families wear masks done in gota kinari while ultra rich mask done with gold, silver and other precious stones.
Several celebrities have shared their masked picture on Instagram and also made it a part of their wardrobe. Bakhtawar Bhutto Zardari, the daughter of former Prime Minister Benazir Bhutto also donned a mask on the occasion of her wedding during the pandemic.
Besides, Bollywood actor Priyanka Chopra also shared her picture wearing a designed face mask, captioned, "Eyes are never quite."
Former top model Cindy Crawford also shared her picture wearing a mask matching her blouse. "Let's make social distancing our fashion," Ms Crawford said.
Hits: 16