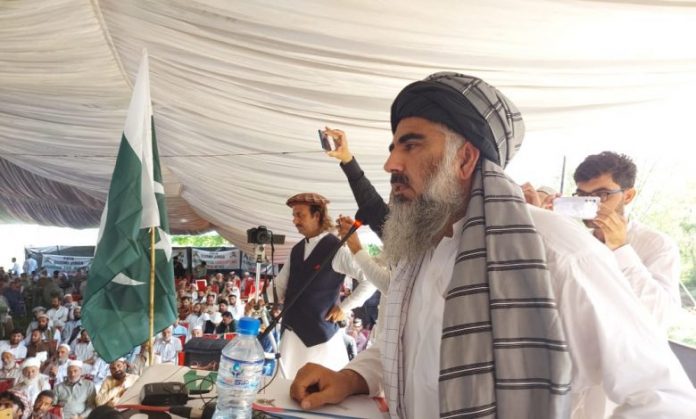 PESHAWAR: The Fata Qaumi Jirga on Tuesday organised a massive Jirga outside the National Press Club in Islamabad which was attended by a large number of people from merged tribal districts and sub-divisions.
Fata Qaumi Jirga Chairman Bismillah Jan Afridi, former minister Waris Khan Afridi, Malik Khan Marjan from Waziristan, JUI-F central secretary general Mufti Abdul Shakoor, former lawmakers, social activists, tribal elders and youth were present at the Jirga who chanted slogans against the merger of erstwhile Fata with Khyber Pakhtunkhwa.
Speakers on the occasion said the problems of merged tribal districts increased after merger with KP. They said the merger was imposed on the people of erstwhile tribal areas without their consent, which is a big injustice. They alleged that the merger was carried out under a foreign agenda. They said the ground realities were ignored while making a unilateral decision about the merger.
The tribal elders said the presence of such a large number of people in the anti-merger gathering shows that the majority of people in erstwhile Fata are not happy with the merger. Therefore, they said, the government must immediately revoke the merger. They said even the previous proponents of the merger are now fed up with the new set up and they are looking for excuses to hide their embarrassment. They said the narrative of Fata-KP merger has failed miserably, as the promises made by the government at the time of the merger proved to be a fraud.
The speakers alleged that erstwhile Fata has been handed over to bureaucrats and politically powerful people who are usurping the rights of people. They pointed out that recently almost all appointments on the posts of merged districts in Health Department were made from settled districts of KP which proves that the KP elite is bent upon depriving the merged districts people from their basic rights. The expressed grave concern over elimination of admission quota for students of merged districts from colleges and universities all over the country.
At the end of the Jirga, a joint statement was issued which called upon the government to give provincial status to erstwhile Fata and take steps for rehabilitation of displaced people.
Hits: 29