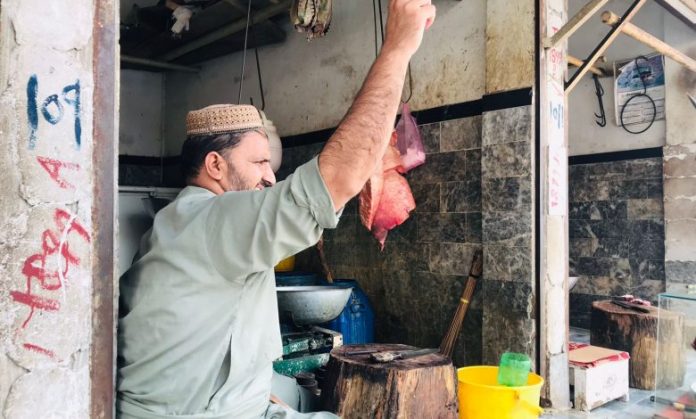 Anwar Khan
Fears of catching lumpy skin diseases is keeping the customers from the city's meat markets and has led to significant decreases in the number of animals slaughtered on daily basis.
Sajid, who runs a meat shop in Nauthia Bazaar, told TNN that they were waiting for customers' whole day but most of the people were keeping away from meat shops due to lump skin fear.
Mr Sajid said that some months back he used to sell 50 kilograms of meat for day and now it was even difficult for him to sell only 20 kilograms. Besides, he said that previously people used to book their orders but these days even those visiting bazaars were not buying meat. He said that the fear of virus was so prevalent that people were avoiding verified meat from slaughter houses.
City's other meat markets are also facing the same situation. City's largest private slaughter house on Ring Road area of city which used to slaughter 600 animals per days has now been reduced to 100. Asghar Khan, owner of the slaughter house said that 90 percent of their business has gone to social media propaganda and fake news. "About 5000 people associated with this market have been affected due to this," he said.
Mr Khan said that all the animals slaughtered at the market were checked by livestock department veterinaries before butchering. Similarly, number of animals slaughtered at the Landai Sarak slaughter house has come down to 10 per day from around 70 a few months earlier.
Beef Association President Maqsood Khan Qureshi said that thousands of the people associated with meat businesses were barely earning anything. He said that if the government did not run awareness campaign, then these people were rendered jobless.
Mr Qureshi said that people were afraid of eating beef despite reassurances from health experts and livestock department. He said that government needs to run a large scale awareness campaign to drive the message home that the lumpy skin only affected animas not humans.
Kamran Fareed, district director livestock Peshawar told TNN that lumpy skin was not zoonotic dieses. "We have not seen any case of human catching lumpy skin so far," he said.
However, he said that virus has spread quickly among the cattle and they were vaccinating animals to contain its spread. "We have vaccinated 80,000 cattle in Peshawar alone," he said.
Besides, he said that lumpy skin only affected cow, ox and calves and not other animals.
Dr Saima Tahir, deputy director public health KP told TNN that health department has not issued any alert regarding the lumpy skin. She said that there was no medical evidence to support humans catching lumpy skin.
This virus only affected animals according to the World Health Organization, she said.
Besides, she said meat and milk from the affected animals could be safely consumed.
She said that pregnant women and children must use both items in their food.
Hayat, a longtime slaughter house worker said that people were scared of lumpy skin. He said that unfortunately people have stopped eating meat from healthy animals.
Lumpy skin in KP
KP has reported 46,343 lumpy skin cases over past three months and of which 2300 animals died. Most of the cases were reported from southern districts including Dera Ismail Khan, Tank, Lakki Marwat, Kurram and Orakzai.
First lumpy skin case in Pakistan was reported in Sind earlier in April this year. Pakistan has reported 180,000 lumpy skin cases so far.
A research study available on the website of the World Organization for Animal Health that lumpy skin was virus which spread among animals and it was diagnosed among cattle in Zambia in 1929.
This virus later spread of Botswana and South Africa in 1943 and affected nearly eight million animals.
In Asia, this virus was first detected in Bangladesh in 2019 and later spread to several other countries afterwards.
Hits: 91