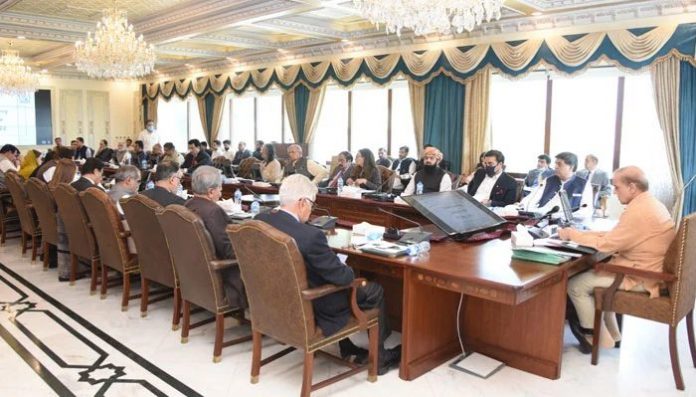 Federal cabinet has restored Saturday as public holiday in a bid to save electricity.
The cabinet meeting took place with the Prime Minister Shahbaz Sharif in the chair also decided a 40 percent cut in the POL expenditure of federal departments.
The development came in the wake of flight of dollar which on Tuesday recorded another jump of Rs 4.25 in inter-bank market pushing the exchange rate up to Rs 204.31
On the other hand, analysts have blamed the rapid depreciation of rupee to delay in International Monetary Fund facility and payment for oil imports.
Besides, federal finance minister Miftah Ismail has said that a US$ 2.3 billion loan from China and agreement with IMF will improve the country's foreign exchange situation.
On the other hand, federal cabinet in its meeting decided to go for two weekly public holidays in order to conserve energy. Cabinet also discussed the POL expenditure cut for federal department and approved a 40 percent cut. Ms Aurangzeb said that restoration of Saturday holiday will save the government US$ 386 million per annum.
Federal Minister for Information Marriyum Aurangzeb told a press conference that the cabinet was briefed about the electricity situation in the country.
She said that in the ongoing extraordinary heat wave, electricity demand has surged to 28,400 megawatts. Ms Aurangzeb said that country was facing a shortage of 4600 megawatts.
She said that the Pakistan Muslim League (PMLN) former government completed 14000 megawatts of electricity in its tenure; however, PTI failed to complete electricity projects in its tenure.
Ms Aurangzeb said that PMLN government had resolved the electricity crisis in proper manner; however, PTI government failed to pay attention to this sector in its tenure.
She said that by June 15, load shedding duration will be reduced to three and half hours a day. In addition to this, by June 25-29, it will be further reduced to two and half hours and on June 30, power cuts will be reduced to two hours per day.
She said that cabinet also discussed the renewable energy resources and also decided ministers and government members' quota by 40 percent.
Besides, a committee has been tasked to consider a work from home proposal on Fridays.
In addition to this, a Council of Common Interests meeting will take place regarding early closure of bazaars and traders will also be taken into confidence.
Ms Aurangzeb said that government will go for ensuring more and more virtual meetings.
Besides, purchase of vehicles for government officials and foreign treatment on government expenses has also been banned.
Hits: 18