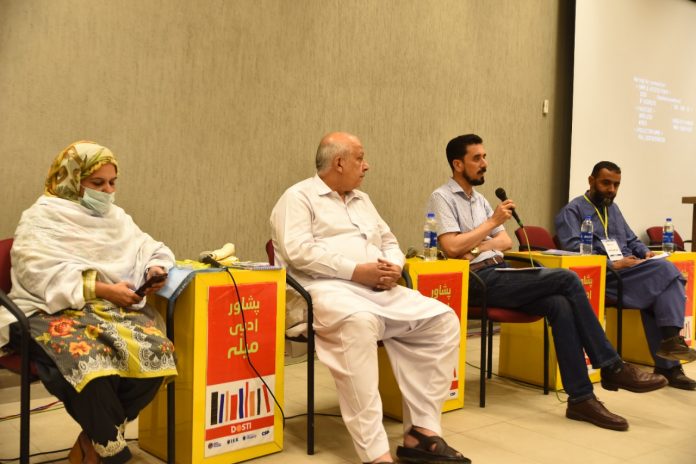 First edition of the Peshawar Literature Festival started here on Monday at the Institute of Education and Research (IER), University of Peshawar.
The festival has been arranged by the Dosti Weflare Organization, IER, Community Service Programme and Department of History.
UoP vice chancellor Dr Muhamamd Idress inaugurated the three days long festival. In his speech, Dr Idress underscored the importance of healthy debate. He said that this event may help foster healthy debate in the society.
Noted historian Dr Sayed Wiqar Ali Shah was keynote speaker at the opening ceremony and delivered his lecture about the origins and impact of Pakhtun Risala launched by the Bacha Khan for the reforming of Pakhtun society.
In his speech, also threw light on the situation preceding the launch of Pakhtun magazine and how it tried to change the society. Dr Shah also spoke in great length about the history of the magazine and its impact on women.
In his welcome address Dr Munir Ahmed, a faculty member at the IER spoke about the vision and mission of the PLF.
Besides, IER director Dr Muhammad Rauf also spoke at this occasion and informed the audinace about this institution's history.
After the opening ceremony, 12 sessions on different topics including storytelling in Pashto literature, Promoting Gandhara for Pluralism in Pakistan, Pashto folklore, women and social change, history of journalism in KP and Bayazid Ansari took place. A large number of students, literary personalities, writers, poets and academics took part in these interactive sessions.
Besides, 16 sessions including English poetry recital are scheduled for Wednesday.
Hits: 6