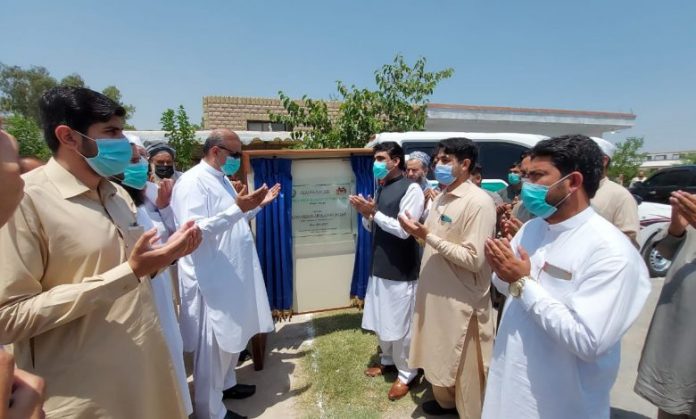 PESHAWAR: First time in merged districts, the Khyber Pakhtunkhwa Livestock and Dairy Development Department has inaugurated a mobile milk testing laboratory in Khyber tribal district.
Officials say the purpose of establishment of laboratory is to curb adulteration of milk and to ensure supply of best quality hygienic milk to the people in merged tribal districts.
The laboratory was formally inaugurated on Wednesday by Additional Deputy Commissioner Khyber district Noor Wali, while Assistant Director Livestock Waheedullah Wazir, Dr Aftab Khan, officials of administration and local elders were present on the occasion.
Speaking on the occasion, Noor Wali said that it was the first time in the history when a milk testing laboratory has been launched in merged Khyber district. He said the test process would help discourage elements involved in adulteration of milk. He said that laboratory is equipped with modern analysing system to test specimens of milk collected from different shops within minutes.
The additional deputy commissioner urged the public to bring specimens of milk and other dairy products to get analysis from livestock office.
Waheedullah Wazir said that the establishment of slaughter houses by Livestock and Dairy Development Department was also in progress which would help provide quality meat to people.
People of the area appreciated the opening of milk testing laboratory and said it would help in curbing the ugly practice of adulteration. They hoped that people involved in selling adulterated would be brought to book and local residents would get pure milk.
Gandhara Valley City
The KP government has approved Rs299.95 million for the appointment of consultants for feasibility study, planning and designing of the new Gandhara Valley City and its approach road from GT Road Peshawar.
The provincial assembly has already adopted Peshawar Development Authority (Amendment) Bill, 2021 for acquiring land for the purpose. The bill empowers PDA to acquire land through the formula of allotting developed plots to the landowner, generally known as the one-fourth formula.
The PDA has already issued tender seeking proposals from interested firms to be selected under quality and cost based selection criteria.
Due to boom in construction and housing sector, the provincial government has extended the jurisdiction of PDA to six more localities of Peshawar.
Hits: 0