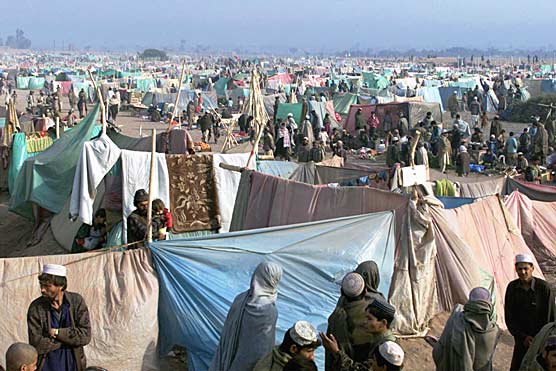 Abid Pervez
A large number of flood affected Afghan refugees in Shakol area of Dera Ismail Khan are forced to live in tents six months after the floods.
About 100 families of flood affected Afghan refugees in the area and they said that the winter has added to their miseries of living in tents.
Speen Gul, a refugee told TNN that his house was destroyed in floods and they were facing problems.
He said that received Rs 50,000 in aid from the UNHCR after the floods along with tents. However, he added that other than this they have received nothing so far. "We did not receive food and non-food items," he said.
Besides, he said that they have got only faucet for their other needs, while other taps in the area were dysfunctional.
Speen Gul demanded authorities to provide them with tents.
Haroon, another refugee said that they desperately need rooms as they could not live in tents anymore. "It is really difficult to spend winters in tents," he said.
Manzil Foundation distributes aid among affectees
On the other hand, some charities are working to assist these refugees while they wait for government attention.
Manzil Foundation, a Peshawar based charity organization run by transgender, distributed food items among the refugees.
Arzoo, a member of the charity told TNN that transgender community did not received any aid during the Covid-19 lockdown. "Then it occurred to us to start helping the helpless lot of the society," she said.
She said that she was setting up relief camps to help flood affectees and spends time with them.
However, she criticized those setting up relief camps for flood affectees. "Where the tents and ration have gone which they had collected for flood affectees," Arzoo said.
She said that those people should come forward and assist the flood affectees.
On the other hand, flood affected refugees are demanding authorities and international organizations to help in this difficult hour.
Hits: 25