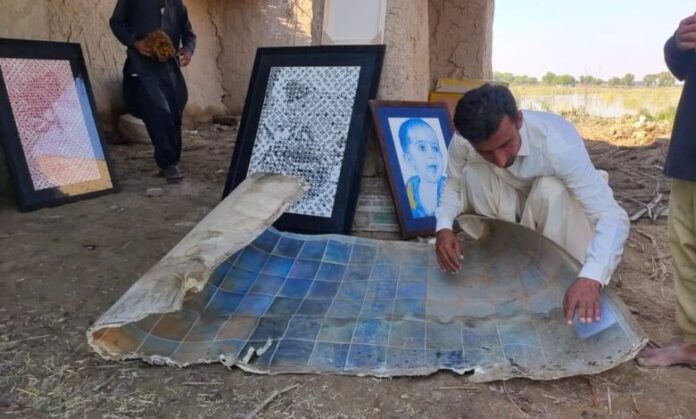 Mohibullah Khan
Qasim Bugti, a Balochistan based painter was scheduled to hold a solo exhibition of his paintings earlier in October last year when the floods struck. But then floods hit the country and destroyed his studio, damaging 100 of his paintings.
Bugti, who holds a degree in painting in from National College of Arts, said that floods have immensely pained every member of his household. He said that his son and nephew died due to communicable diseases that spread after the floods in the area.
"The floods also engulfed my paintings, which were most precious possession," he said. He said that there were 100 paintings in the house and destroyed studio, which was badly damaged due to the floods.
The solo painting exhibition was postponed after the floods and will be held
"The floods have turned our prosperous area into a wasteland and people are living under open sky," he said.
Physical and mental toll of disaster
Bugti said that the floods have made everyone physically and mentally sick. He said that the deluge also killed their cattle and he shifted his family to safety with great difficulty.
"This was like doomsday for me and still cannot the voices of my family members and children out of my head," he said.
However, he said that his moral was still high and he has not given up. "I will continue my work with more passion and courage," he said.
However, he said that his losses were too great and difficult to be compensated for. However, he added that if government and relief agencies extended some assistance to him, he will be grateful to them.
Besides, he said that he had still some painting which remained safe in floods. "I have started painting again and will soon hold an exhibition soon to improve his financial situation," he said.
People like Bugti, if supported and assisted, could make Pakistan proud globally.
Hits: 9