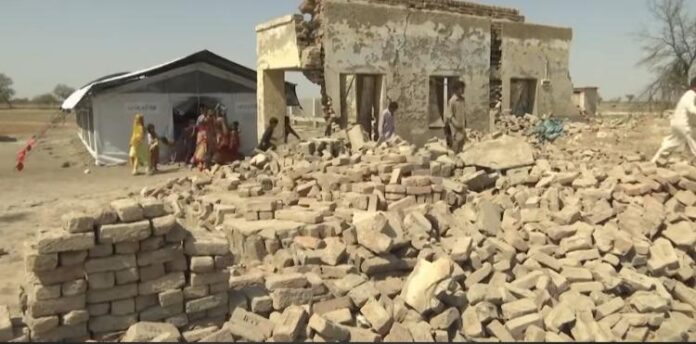 Aziz ur Rehman Sabawoon
Zubaidah Hameed, a teacher at a private school in the Sohbatpur district of Balochistan, has been living without work in her flood-affected storeroom for the past nine months, surrounded by scattered belongings. Prior to this challenging period, Zubaidah had a relatively stable life.
However, in the final week of August 2022, the devastating floods caused by continuous heavy rains not only destroyed Zubaidah's home but also reshaped the entire Sohbatpur district. She used to teach at a private model school near her house, earning a salary of Rs 8,000, but the school had to close down due to the floods.
Zubaidah emphasized that the closure of the school had a greater impact on her life than losing her home.
Also Read: Heavy rains wreaked havoc Across Country, Claim 12 Lives
"The salary I used to receive from teaching helped me meet the basic needs of my two children and our household. However, since the school closed after the flood, we rely solely on my husband's daily income, which often only covers two meals a day. Sometimes, we go to bed on an empty stomach," Zubaidah shared with a heavy heart.
According to Abdul Rauf Baloch, the Secretary of the Balochistan Education Department, there are currently over 30,260 primary, middle, and high schools spread across 34 districts of Balochistan. Out of these, 2,869 public schools were affected by the floods in 2022. As a result, more than 386,600 students and 17,660 teachers and staff members have also been significantly impacted.
Nazar Bareech, the President of the Private Schools Association, highlighted that in addition to government schools, around thirty private schools in the remote areas of Jafarabad and Naseerabad divisions of Balochistan were established last year to address the absence of government schools. Unfortunately, these private schools also suffered losses due to the floods. Nazar further stated that over six thousand five hundred students enrolled in these affected private schools faced severe disruptions to their academic year, yet they did not receive any relief from any institution.
"While various NGOs and the government are involved in rebuilding and resettling the affected schools, as operators of private schools, most of us have either relocated to other premises or attempted to rebuild the damaged structures ourselves. We have not received any assistance from the government or the NGO sector. Our schools require teaching materials and financial support for the affected teachers," explained Nazar.
Data obtained from the Balochistan education department through the Right to Information Act reveals that, out of 15,168 schools across 34 districts of Balochistan, 12,260 schools (8,315 boys' schools and 3,425 girls' schools) and 520 co-educational schools were surveyed following the 2022 floods. Among them, 61% of government schools were affected, with 8% being completely destroyed, 6% being in poor and dangerous conditions, 9% mainly being damaged but with some classrooms intact, and 37% being partially deteriorated but considered safe.
During an interview, Secretary of Education Abdul Rauf Baloch expressed concerns about the inadequate budget allocation for education in Balochistan. Out of the total budget of 612 billion rupees for 2022-23, only 19.77 billion rupees were allocated for education, which is insufficient, according to Abdul Rauf. He likened such a low budget to adding salt to the flour, especially in the context of the recent floods.
"We made efforts to increase the budget last year, and finally, we received 19.25 billion rupees. In the upcoming financial year, although the financial conditions of the Balochistan government are not favorable, our needs have increased to such an extent that there should be at least a 20 to 25 percent increase compared to the previous year. If we are given a small budget like last year, it will not only be challenging to establish new educational institutions, but it will also be impossible to cover the damages caused by the floods," Baloch Warned.
According to UNICEF, in collaboration with other NGOs, several initiatives have been undertaken after the floods. They have established 155 tent schools accommodating 7,573 boys and 5,900 girls, rehabilitated 154 partially affected schools, and provided 216 fully destroyed schools for reconstruction, benefiting 24,956 boys and 10,724 girls. Additionally, mobile schools have been set up in flood-affected districts, relocating from one area to another as needed.
Naqib Khilji, an officer from UNICEF, mentioned that their organization alone has invested approximately 50 crores in these efforts. Many projects are still ongoing. He explained, "After the floods, our first priority was to evacuate the flooded schools. For each school, the cost exceeded several lakhs rupees to repair roofs, windows, and doors. We started constructing temporary classrooms for schools completely damaged by floods, costing more than eight lakhs rupees per school. We also introduced tent schools and mobile schools in displaced areas, which continue to operate intermittently."
Asiya Fazal, a housewife from Hanna Urak, located ten kilometers away from Quetta, shared her experience of being displaced by the flood. Her house became uninhabitable, and she had to seek refuge at her brother's house in Quetta. The most challenging moment for Asiya was when her husband's rickshaw, which they used for cooking, was swept away by the flood. However, their situation improved when her husband secured a job as a driver in UNICEF's flood project.
"After the flood, we were devastated because our house and the rickshaw were no longer usable. But since my husband got this job as a driver, our lives have started to turn around."
Naqeeb Khalji, involved in flood relief work, emphasized their focus on assisting affected schools and people. He stated, "The floods were of such magnitude that they affected everyone from all walks of life. Therefore, wherever we conducted development work, we also aimed to promote local workers and businesses. For example, we sourced sand, gravel, cement, and other materials from local suppliers. Similarly, we employed machinery and workers from nearby residents who were also affected by the floods."
Government reports indicate that 18 percent of schoolchildren were mentally affected to some extent, and 17 percent were significantly affected by the floods. Psychiatrist Dr. Zarmina Tareen highlighted the negative impact of such emergencies on individuals, especially children. She stressed the importance of providing specialized sessions to help these children recover from the traumatic experience and return to their normal state.
Professor Nilofar Jameel, an environmental studies professor at Sardar Bahadur Khan Women's University in Quetta, described the floods in 2022 as the most dangerous in the country's history. They had far-reaching consequences, affecting every aspect of life. These floods were the most severe in Pakistan to date, and due to rapid climate change, the threat is increasing rather than decreasing day by day.
The International Rescue Committee (IRC) released a report at the end of March, warning of a severe humanitarian crisis in various districts of Balochistan due to the floods. The report predicts that if rehabilitation work in health, housing, food, sanitation, and education is not accelerated, there will be long-term consequences not only for the people in flood-affected areas but also for the entire province and country.
In the 2023-24 budget approved on June 19, the Balochistan government has allocated Rs 578 billion for projects in flood-affected districts. Additionally, a total of 77 billion rupees was approved for the education sector, with 65 billion rupees allocated for non-developmental projects and 12 billion rupees for development works in the education sector.
Overall, approximately three thousand schools were affected in 30 out of the 34 districts of Balochistan in 2022. This impacted around 390,000 male and female students, along with over 17,600 male and female teachers.
Note: This story is part of the Pakistan Press Foundation research fellowship.
Hits: 21