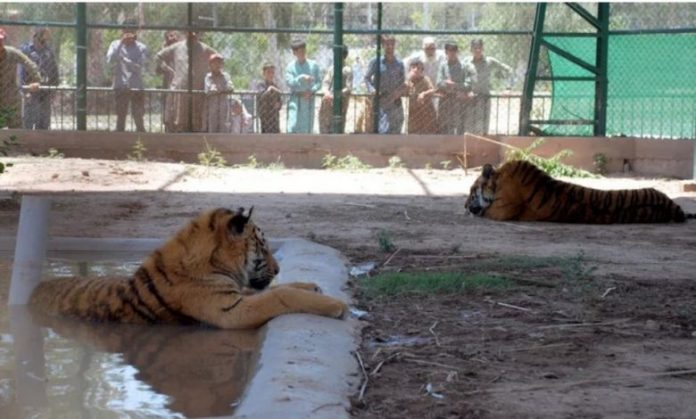 Usman Danish
Khyber Pakhtunkhwa forestry department has issued guidelines to protect against forest fires and saving wildlife during the extreme heat wave.
Earlier met department has predicted extreme heat wave, wherein the temperature will soar from five to seven degrees Celsius from Saturday to Sunday.
The advisories have been issued to protect the forests and wildlife from the impacts of the extreme heat.
Provincial Disaster Management Authority (PDMA) had also issued an advisory to the deputy commissioners across the province alerting about a weeklong heat wave from May 8.
The forestry department in its advisory directed officials to take special measures in addition to already taken as per routine/practice and each concerned conservator and district officers will be personally responsible for the national parks, Peshawar zoo, other zoos, pheasantries and wildlife parks.
Forestry department spokesperson Latif-ur-Rehman said keeping the advisory about the heat wave, the wildlife personnel have been directed to ensure safety of animals and birds.
He said that for caged animals, the department has directed to ensure regular change of drinking water in respective water ponds/tubs/ utensils on daily basis two times (early morning and afternoon) to ensure supply of fresh water availability to animals and birds.
Besides, he said that directives have also been issued to keep the water fountain(s) provided in the bird aviary in the zoo operational so that birds may bathe and dampen themselves.
He said that they have also been directed to provide urgently, where required, cages with shelter both on top and sides by using hay materials and green sheets.
Mr Latif said that the staff has also directed to ensure water is sprinkled in the cages to have cool effect for birds and animals and also put fans and coolers to work in animal houses and shelters for cooling effect purposes in the zoo.
Besides, the staffs have also been directed to mix medicines in water in case of illness for reducing heat stress and provide succulent food such as fruits to specified animals for intake and fulfilling water requirements of their body.
He said that no animal or bird will be shifted during heatwave or extreme weather to avoid stress.
Mr Latif said that to ensure safety of personnel working in the field, they have directed staff to wear hats to protect them from heat. In addition to this, provision of cold water for the both the visitor as well as the staff will be ensured.
Mr Latif said that the protection of plants and forests, they directed district formations of the departments to take the necessary steps.
He said that small plants with weak roots were more prone to heat exposure so they have instructed the officers to ensure the presence of staff in the nurseries and timely watering of the plants to protect them.
Mr Latif said that they have directed their staff to avoid tube shifting of young seedling in nurseries may be stopped forthwith, and shade be provided where possible.
"We have directed our staff to coordinate with the district administration, Rescue 1122, field staff, police and other officials during these seven days of hands-on monitoring," he said.
Hits: 11